United Nations aid chief Mark Lowcock on Tuesday warned that half of Yemen's population are on the verge of famine and may be dependent on aid for survival.
"There is now a clear and present danger of an imminent and great big famine engulfing Yemen: Much bigger than anything any professional in this field has seen during their working lives," Lowcock said at the UN Security Council.
Lowcock, a trained British economist, accused warring parties of violating international humanitarian law and preventing aid deliveries to the key Hodeidah port. As a country that imports roughly 90 percent of its food, the port is a lifeline for Yemen.
Read more: In Yemen, 'nearly all children' at risk from war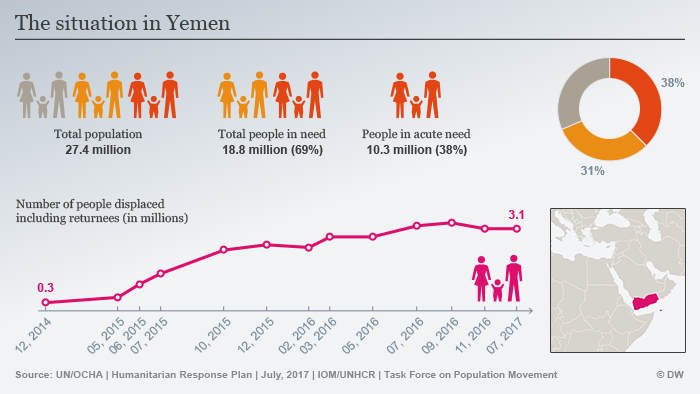 Death in sight
According to the latest estimates, 14 million people could face severe malnourishment, starvation and even death from epidemics fueled by famine.
"The immune systems of millions of people on survival support for years on end are now literally collapsing, making them — especially children and the elderly — more likely to succumb to malnutrition, cholera and other diseases," Lowcock said.
The UN aid chief said the only way to prevent widespread famine is by implementing a humanitarian ceasefire, allowing life-saving shipments of aid to enter the country, providing much-needed foreign exchange and ending the war.
The UN has only declared only two famines in 20 years; one in Somalia in 2011 and another in part of South Sudan last year. Lowcock said that makes Yemen's case all the more "shocking."
Read more: UN details possible war crimes in Yemen conflict
Unending war
While Yemen had struggled with civil unrest since the Arab Spring, it wasn't until 2014 when the situation took a turn for the worse. That year, Houthi rebels launched a campaign to capture the capital Sanaa and oust President Abed Rabbo Mansour Hadi.
In 2015, Saudi Arabia launched a brutal military campaign to push out the Shiite rebels and restore Hadi's internationally recognized government.
Since then, more than 10,000 people have been killed and thousands more displaced in what the UN has described as the world's worst humanitarian crisis.
"With so many lives at stake, we call upon the belligerents to seize this moment to engage fully and openly with the special envoy to end the conflict," Lowcock said. "I call on all stakeholders to do everything possible to avert catastrophe."
DW editors send out a selection of the day's hard news and quality feature journalism. You can sign up to receive it directly here.
ls/aw (Reuters, AFP)