Dozens of children were killed this week when Saudi-led forces launched an airstrike on a bus, UNICEF confirmed to DW on Friday.
The tragedy sent shockwaves across the globe, with the international community condemning what has been dubbed "the single biggest attack on children" since the conflict erupted in 2015.
Save the Children Germany has called for a "full, immediate and independent investigation into this and other recent attacks on civilians and civilian infrastructure, like schools and hospitals," the organization's chief executive Susanna Krüger told DW. "We have seen a worrying rise in these incidents and no action has been taken to hold the perpetrators to account."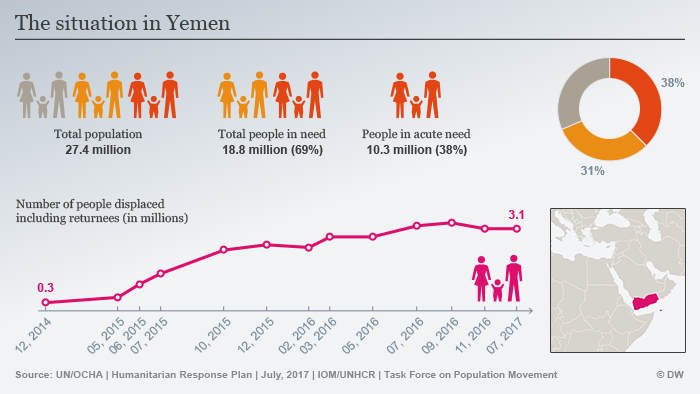 'No place is safe for children'
But this isn't the first time children have taken the brunt of the war in Yemen. More than 6,000 children have been killed or injured since March 2015, when Saudi Arabia launched an aerial campaign targeting anti-government rebels, according to UN figures.
"It's one of the worst places to be a child," UNICEF spokeswoman Juliette Touma told DW. "It's probably safe to say that right now no place is safe for children in Yemen."
UNICEF says "nearly all children" in the country are in need of humanitarian assistance due to the conflict. Touma noted that a combination of factors play into it.
"The safety and protection of children has deteriorated because of continuous attacks, because of relentless violence against children," Touma said. "But it is also because the humanitarian situation in Yemen has become worse because of the war."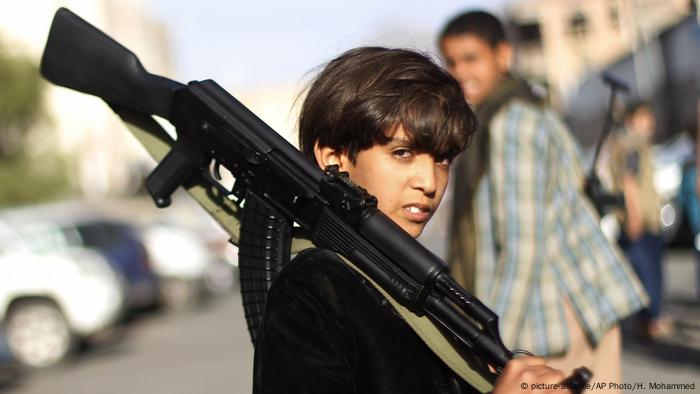 Children have also been recruited to fight in the war
Saudis 'not interested' in sparing civilians
In the wake of the deadly attack, some observers have asked whether Saudi Arabia and its coalition of pro-government forces are intentionally targeting children. Most analysts agree that the answer isn't straightforward.
Ali al-Absi, a Yemeni political scientist based in Berlin, told DW that while the Saudi-led coalition is not likely targeting children outright, it has a history of striking areas which carry the potential for high numbers of civilian casualties.
Read more: Yemeni journalists face death threats, kidnappings
"Saudi Arabia regards anything in Yemen as a legitimate target, including schools, markets, infrastructure, weddings and orphanages. Unfortunately, Saudi Arabia does not seem interested in sparing civilians the scourge of war," al-Absi said.
But the Yemeni scholar noted that atrocities have been committed against children on both sides of the conflict. "Even the Houthis besieged the city of Taiz and targeted civilians and children with sniper fire," he said.
No end in sight
More than 15,000 people have been killed and thousands more injured since 2015, when Saudi Arabia launched a military offensive against the Houthis and their allies aimed at supporting the internationally-recognized government of Yemen President Abed Rabbo Mansour Hadi.
Read more: Saudi Arabia vs. Iran: From 'twin pillars' to proxy wars
The US and other Western countries have given significant support to the Saudi-led coalition through logistics, intelligence and arms sales, actions which human rights organizations say have further fueled devastation in one of the poorest countries in the world.
Iran, meanwhile, has reportedly provided support to Houthi rebels.
Hady Amr, a former senior diplomat for the Obama administration, told DW that while external influence can help ease the conflict, the US "cannot have an effective role in brokering a solution" since it has "clearly taken sides." He instead pointed to Brussels for a way forward.
"After three years of heavy fighting in Yemen, the European Union and its member states are perhaps in the best position to stop the fighting, as the EU has good enough relations with all sides in the conflict to make a difference," Amr told DW.
An EU Commission spokesperson told DW that besides providing more than €438 million ($500 million) in humanitarian assistance since 2015, "we have also been working on initiatives on the diplomatic and political sides."
Read more: Why are EU countries reluctant to intervene in Yemen's war?
'Bring the war to an end'
For children's rights advocates, more needs to be done to end hostilities against children and, more generally, against civilian populations.
"There is no military solution to this conflict," said Save the Children's Krüger. "Only a political solution can bring the war to an end and reinstate peace in Yemen."
"Until the war finally comes to an end, we will continue to push forward with our humanitarian work and the delivery of humanitarian assistance," said UNICEF's Touma.
Every evening at 1830 UTC, DW's editors send out a selection of the day's hard news and quality feature journalism. You can sign up to receive it directly here.