Conflict and persecution drove up the number of globally displaced persons to a record 65.5 million last year, the UN refugee agency, UNHCR, reported on Monday.
The figures, which are released annually ahead of World Refugee Day on June 20, showed that more than 10 million of the world's displaced people were uprooted from their homes in the past year alone. Some 3.5 million displaced people crossed international borders for the first time to become refugees. "This equates to one person becoming displaced every three seconds - less than the time it takes to read this sentence," the UNHCR said in a statement.
Read more: Glossary of terms : asylum seekers, refugees, migration
This is "the highest figure since we started recording them," UNHCR chief Filippo Grandi told reporters, pointing out that it was larger than the population of Britain.
Syria and Afghanistan remain the biggest sources of refugees, with 5.5 million and 2.5 million nationals from the two countries displaced respectively. The crises in the Middle East have garnered the most global attention, because the masses of people who have fled the region in past years have tried to seek refuge in Europe.
Flow of refugees slowing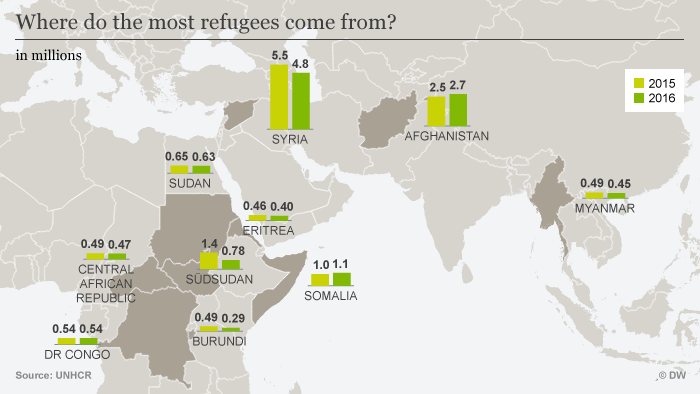 Despite the global number of displaced persons reaching a record high, the UNHCR's count showed that the flow of refugees last year slowed for the first time in years.
In 2016, just over 10 million people fled abroad or became internally displaced within their country, compared to 12.4 million people the year before.
Read more: Syrians in Lebanon: 'They treat us like we are dirty'
Meanwhile, the total number of globally displaced also rose by some 300,000 people in 2016 from the year before, a smaller increase than in the previous years.
However, Grandi warned against viewing the trend as positive. "By any measure, this is an unacceptable number, and it speaks louder than ever to the need for solidarity and common purpose in preventing and resolving crises," he said. "Although these figures represent small shifts compared to the previous year ... the relatively stable figures mask a very unstable situation."
South Sudan: world's fastest growing displacement crisis
Famine and civil war in South Sudan saw the country become the source the world's fastest-growing displacement crisis last year. The number of South Sudanese who fled across the border rose by 64 percent in 2016, from 1.4 million to 1.9 million.
Read more: Conflict forces millions of children in South Sudan to flee homes, says UN
"No refugee crisis today worries me more than South Sudan," the UNHCR's Africa chief, Valentin Tapsoba, said, adding that around two-thirds of the refugees were children.
Nearly all South Sudanese refugees have sought asylum and protection in the neighboring countries of Uganda, Ethiopia and Sudan.
Another 2 million people are reportedly displaced internally.
dm/rg (AP, dpa, AFP)