In an annual report to the United Nations Human Rights Council in Geneva, Zeid Raad al-Hussein on Thursday expressed concerns about a broad range of issues including the building of fences on European borders and some countries' policies of seizing personal goods from migrants and refugees.
"Today, in violation of the fundamental principles of solidarity, human dignity, and human rights, the race to repel these people is picking up momentum," the High Commissioner for Human Rights said.
Zeid said he planned to raise his concerns about the agreement being worked on between the European Union and Ankara - which includes proposals to send people who travel to Greece on smugglers' boats back to Turkey - in Brussels before an EU summit next week when the deal is due to be finalized.
"Among my concerns is the potential for collective and arbitrary expulsions, which are illegal," he said, adding that policies which prevented the assessment of each asylum seeker's case violated international and European laws and that returning Syrian refugees to Turkey, Lebanon or Jordan would expose them to unbearable living conditions.
"I urge the EU to adopt a much more rights-compliant and humane set of measures on migration at next week's summit," Zeid said.
Migration divisions
The influx of more than a million people seeking refuge in Europe - many of them refugees from the war in Syria - has exposed deep divisions within the 28-member bloc.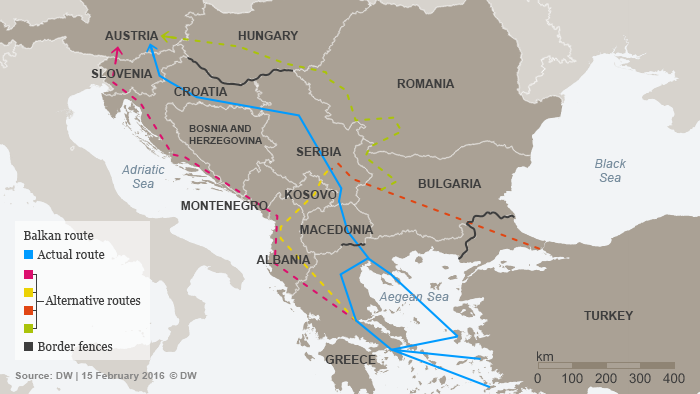 Border crossings on the Balkan route have been halted this week
Zeid said that more than 400 people had died trying to reach Europe in the first two months of the year alone, and described the deteriorating situation in Greece as "dramatic".
As countries along the Balkan route used by migrants and refugees to trek to wealthier European nations like Germany close their borders, bottlenecks have formed and tens of thousands of people have been left stranded. On Thursday Greece reported having almost 42,000 asylum seekers in the country, including about 12,000 stuck at Idomeni on the closed border with Macedonia.
se/jil (AP, AFP, dpa)