German media reported on Thursday that Bavaria, joining Denmark and Switzerland, has begun confiscating valuables from newly-arrived refugees.
"Asylum applicants are searched on arrival at the reception centers for documents, valuables, and money," state Interior Minister Joachim Herrmann told Thursday's edition of the "Bild" newspaper. "Cash and valuables may be confiscated if they are worth more than 750 euros [$820] and there is a state claim for reimbursement against the person, or one is expected."
The mass-circulation daily also reported that police in the other major southern German state, Baden-Württemberg, could confiscate any cash and valuables over 350 euros, and that the average value confiscated per person in December was in the "four-figure range."
Some reservations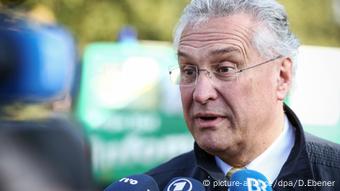 Joachim Herrmann said refugees are searched on arrival
But there were some contextual caveats not mentioned in the tabloid's report.
The Baden-Württemberg Integration Ministry clarified to DW that though cash was taken from refugees in individual cases following police spot-checks, searches are not carried out on every refugee.
"Refugees are not being systematically searched for cash or valuables," said ministry spokesman Christoph Häring. "In the context of a general police check it was established that individual refugees had cash with them."
Nor is this practice actually new. "They've always done that," said Stephan Dünnwald of the Bavarian Refugee Council. "The refugees get a receipt for whatever they have on them, and then that money is used for any expenses the state incurs - usually they calculate around 400 euros a month. That's part of German law - nothing to do with any new restrictions."
"Last fall, a volunteer called me and said a Syrian family had had 10,000 euros with them, which had been taken from them at the border, and she wanted to know if they could get that money back somehow," he added. "And I said, 'well no,' - I mean a family of five, and each of them cost 400 euros a month. After five months they're probably still stuck in the first reception shelter and the money will be gone."
'Forced into a passive role'
The Baden-Württemberg ministry insisted that money is not simply taken away and poured into state coffers to offset the general costs of dealing with the influx of refugees. "The refugees are redistributed around the country, and the money travels with them, so to speak," said Häring. "The money goes to the local district authority, and when the refugee opens a bank account, the money is transferred to it. But then of course it is taken into account when benefit calculations are made."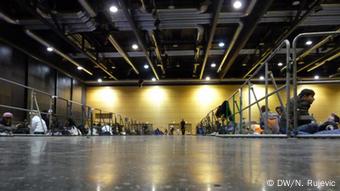 Refugees are 'pushed into passivity' said Dünnwald
Dünnwald had a different take on it: "Most of them have already been robbed by the people smugglers, then the German state comes and takes whatever is left," he said.
"This is how refugees are always forced into a passive role," he said. "They're artificially made poor, and of course then everything is done to prevent them traveling on to anywhere else - to Belgium or Sweden or wherever. It all makes it harder for them to organize their lives independently - to find their own place to live, find a job, or whatever - they're not allowed to do any of that. That's the German way of protecting refugees."
Legal basis
The procedure appeared to receive support on Thursday from the federal government, whose integration commissioner Aydan Özoguz told "Bild" that states have the right to confiscate family jewelry if necessary, since that counts as personal wealth. "Asylum applicants certainly do not have it any better than Hartz IV recipients," she said, referring to Germany's standard unemployment benefit.
Though here, too, "Bild" left out some context: Özoguz' office clarified to DW that the commissioner had not meant to express support for the policies of any particular state, but merely to confirm the "apparently widely unknown" legal situation. Under German law, all social benefits are dependent on the needs of the applicant, and therefore, anyone who makes an asylum application only receives help if their neediness has been established, a federal spokeswoman told DW by email.
In fact, Germany's Asylum Seekers Benefit Act is fairly clear: all of the asylum seeker's available income and fortune - as well as that of any relatives who live in the same household - must be used up before the applicant can claim any benefits, including the costs of accommodation. They are only allowed to keep 350 euros - roughly equal to what they would be able to claim monthly in basic benefits.