For decades during the summer, Roma have been staying in forest camps in central and western Ukraine as they seek part-time work. At one such settlement on the outskirts of the city of Lviv, a popular tourist destination, a seemingly normal day turned deadly on the evening of June 23.
The residents of the camp had just finished their supper — some were going to bed, others were gathering near the fire — when shortly before midnight, according to witnesses, they overheard people calling out obscenities from somewhere in the dark. Suddenly, a group of knife-wielding attackers wearing masks burst into the camp, smashing tents, tossing and vandalizing property and yelling "Gypsies, get out!"
In the ensuing clash that lasted only few minutes, a 24-year-old man was stabbed to death and four more people were injured, two of them seriously: a 10-year-old boy, two 19-year-old men and a 30-year-old woman who was wounded while attempting to protect her son.
Read more: Ukrainian police detain far-right protesters over gay pride threat
"They've attacked us with huge knives while shouting they'll kill us. They've attacked everyone indiscriminately," Raj, one of the 19-year-old victims, told DW. His older brother David was the man killed in the attack. The other victims, including Raj, were rushed to the hospital in the immediate aftermath. They were released after receiving medical treatment and subsequently provided with secure temporary shelter.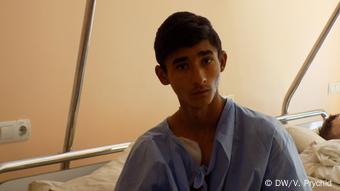 Raj was hospitalized after the attack, which left his older brother dead
"People are terrified, they are not willing to talk to strangers, even with the lawyers who are trying to assist," said Mykola Yurchenko, who heads local nongovernmental organization Roma of Ukraine Ternipe.
Teenage suspects
Ukrainian police said so far eight suspects have been apprehended — seven 16- to 17-year-olds and a 20-year-old who is presumed to be the mastermind behind the attack and who faces life in prison if convicted. All are local residents.
Officially, the case is being treated as a deliberate murder committed by a group of individuals. If found guilty, the other suspects face up to 15 years in prison. They are also being charged with hooliganism and a hate crime — the latter of which, according to local human rights activists, is rarely invoked in Ukraine. Most similar incidents have been classified simply as hooliganism in the past.
Read more: Italy's far-right League plans census of Roma community
The suspects are reportedly members of a radical gang called Sober and Angry Youth, an organization so far unknown to authorities, Lviv regionional police spokesperson Svitlana Dobrovolska told DW. She said that Ukraine's security service, the SBU, should've been tasked with monitoring potentially violent groups, not the local police.
Meanwhile, the head of the SBU Vasyl Hrytsak suggested that Moscow might be behind this attack. "We really understand that Russia could be behind it, but I can't say it with 100 percent certainty, it wouldn't be a correct thing to do," he said on Monday during a press conference in Kyiv, adding that a similar organization was registered in Russia in 2014.
The group has presented itself on social media as "straight-edge" — against alcohol and drug consumption with a clear admiration for Nazi symbolism and right-wing extremist ideology.
Intolerance in Ukraine on the rise
Just this year alone, human rights groups in Ukraine have recorded at least two dozen violent attacks, threats or instances of intimidation by various radical gangs against Roma, LGBT and other minorities. Ukrainian lawyer Dmytro Shvets, who represents the Roma victims of the latest attack outside Lviv, told DW that hate crimes are on the rise in the country, with the national police seemingly reluctant to investigate and prevent such violent attacks. The head of the National Police in Ukraine, Serhiy Knyazev, has acknowledged that "such attacks on members of the Roma community by radicals have become more common," while suggesting that law enforcement is ready to tackle the situation more seriously this time around.
Read more: Poland's Roma community battles discrimination
The recent violence outside Lviv is the sixth widely-reported attack on Ukraine's Roma community in the last two month and the first to turn fatal. Earlier this month, members of the far-right militia National Brigades destroyed a Roma camp in the capital, Kyiv, forcing terrified residents to flee. Similar incidents were reported in the western city of Ternopil and in a village near Lviv.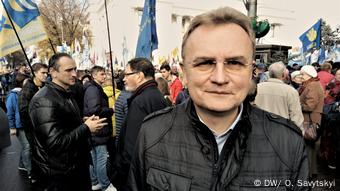 Lviv Mayor Sadovyi says local police should use their authority to crack down on anti-Roma violence
Lviv Mayor Andriy Sadovyi believes far more preventive police action is needed. "Should the law enforcement system not use the force it is entitled to use by the law?" he asked when speaking to DW.
But Lviv police spokesperson Dobrovolska said law enforcement officials were already taking necessary measures and were working with the Roma community to avert future violence.
The Council of Europe estimates the number of Roma in Ukraine to be roughly 260,000.
The world is watching
The latest deadly attack has fueled criticism that Ukrainian authorities are turning a blind eye to hate crimes. "It is of great importance that all relevant actors at the highest political level, as well as local authorities and police forces, mobilize in response to this situation, which seems to have spread throughout Ukraine," Council of Europe Secretary-General Thorbjorn Jagland said Tuesday.
Human Rights Watch said the latest attack "should be a final wake-up call for Ukraine's police to take decisive action against hate crimes," and Germany's human rights commissioner, Bärbel Kofler, said in a statement that she anticipates "a full investigation and punishment for this horrendous act." The US and Canadian embassies in Kyiv, for their part, also voiced condemnation and a call to bring the perpetrators to justice.