Fifty-six members of far-right groups were arrested on Sunday after they tried to disrupt a gay pride march in central Kyiv, police said.
Around 150 members of reactionary groups blocked the planned route of the march several times, and many of them threw gas canisters at riot police.
Five officers had to seek medical treatment after police moved in to clear the street.
'Police attacked us'
Far-right group C14 said police had surrounded its protesters, attacking them with batons and tear gas. "Look at how they protect 'sexual minorities' and violate the rights of regular Kyiv citizens," it said in a post on Facebook.
Read more: Going naked against homophobia
A further confrontation took place near the city's Opera House, leading to several other arrests.
Thousands of police and army were deployed to guard the march by supporters of lesbian, gay, bisexual and transgender rights.
Some 5,000 people later took part in the 20-minute march, which took place without further incident amid a large security presence.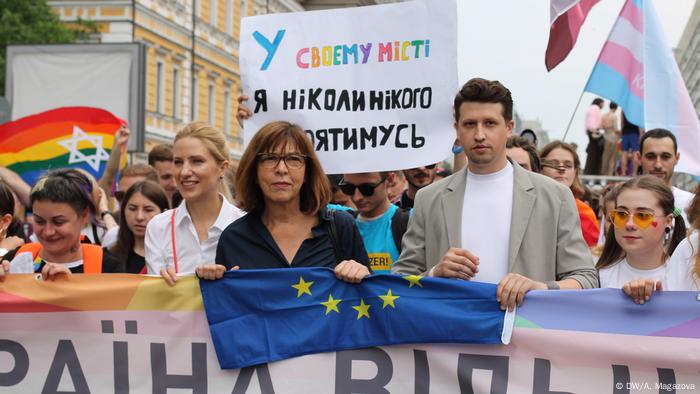 Gay rights supporters in Kyiv remain defiant in the face of threats from far-right groups
March doubles in size
US ambassador Marie Yovanovitch and Rebecca Harms from the European Parliament were at the front of the crowd, which organizers said was roughly double the size of the previous year.
The two most recent gay pride marches in Kyiv have been largely peaceful, but the event in 2015 was disrupted by right-wing activists pelting participants with smoke grenades.
Read more: Homophobia in Russia: 'I thought my daughter was a monster'
"There must always be the police, otherwise someone will come, otherwise someone will interrupt, otherwise someone will attack," 19-year-old Liza, who took part in the march, told the Agence France-Presse news agencies.
As well as far-right activists, those who said they were defenders of "traditional family values" also protested against the march.
"Gay parades are a propaganda of gay dictatorship," Larysa, a 52-year-old woman told AFP.
"They can do what they want, but we are against the propaganda, against implantation of this to our children," she complained.
The Ukrainian government has increased support for LGBT rights since a Western-backed leadership came to power in 2014, but critics say homophobic attitudes remain relatively widespread.
mm/tj (AFP, Reuters)
Every evening at 1830 UTC, DW's editors send out a selection of the day's hard news and quality feature journalism. You can sign up to receive it directly here.