Poroshenko said on Thursday that he had met Ukraine's top military brass as well as foreign ministry officials to discuss the latest tensions between Ukraine and Russia.
"I ordered a high-alert level on the administrative line with Crimea and contact line in eastern Ukraine," he said on Twitter.
Ukraine's UN ambassador Volodymyr Yelchenko also said Kyiv would request that the Security Council hold an urgent meeting if tensions continue to rise.
A spokesman for Ukraine's General Staff told the Reuters news agency, meanwhile, that Ukraine had been holding scheduled military exercises in southern Ukraine since Wednesday.
The German foreign ministry on Friday expressed concern over the latest developments, saying it was in touch with representatives from Ukraine and Russia.
"We are urgently calling on them to avoid any actions that could lead to a further escalation of the situation," the ministry said in tweet.
Putin put out
Russian President Vladimir Putin accused Kyiv on Wednesday of using terrorist tactics to try to provoke a new conflict and destabilize Crimea.
Putin also held a meeting on Thursday with security chiefs to discuss "additional measures for ensuring security for citizens and essential infrastructure in Crimea," the Kremlin said in a statement.
Russian intelligence agency FSB said this week that one officer and an army soldier had been killed at the weekend in two incidents while fending off what it described as attacks by Ukrainian "saboteurs" in the Black Sea peninsula that was annexed by Russia in March 2014 following a referendum.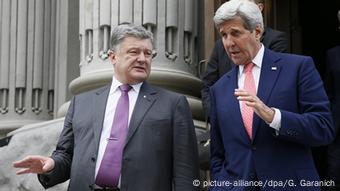 Ukrainian President Petro Poroshenko (L) and US Secretary of State John Kerry (L) leave after their meeting in Kyiv, Ukraine, July 7, 2016
Unverified reports
The Russian claims that Ukraine attempted a terrorist attack in Crimea are unverified, an EU foreign policy spokeswoman said on Thursday, although she said the Organization for Security and Co-Operation in Europe (OSCE) had no access to the occupied peninsula.
"There has been no independent confirmation of the claims made by the Russian authorities," the spokeswoman says in a statement. "We reiterate our condemnation and non-recognition of the illegal annexation of Crimea and Sevastopol by the Russian Federation," the statement read.
The OSCE statement also stressed the EU's "unwavering" support for Ukraine's territorial integrity and sovereignty.
"The EU calls for a peaceful resolution of the conflict, including in eastern Ukraine, where all parties - including Russia - must fully engage in the complete implementation of the Minsk peace agreements," the spokeswoman added.
War of words
A spokesman for Ukraine's foreign ministry said this week that Putin was looking for ways to justify a war with Ukraine. "Putin wants more war. Russia escalates, desperately looks for a casus belli against Ukraine, tests West's reaction," a spokesman for Ukraine's foreign ministry, Dmytro Kuleba, wrote on Twitter.
Meanwhile, the FSB said the Ukrainian Defense Ministry's intelligence agency was targeting Crimea's critical infrastructure, which the ministry has denied. Yuriy Tandit, an adviser to the head of Ukraine's security agency, told Interfax-Ukraine that Kyiv had no intention of taking back the territory "by force."
jbh/msh (AP, dpa, Reuters)