British Foreign Secretary Jeremy Hunt on Monday said the government will seek to establish a new force with European allies to guarantee maritime security in the Strait of Hormuz.
"We do not seek confrontation. We have taken every available opportunity to deescalate the situation," Hunt said. "Freedom of navigation is a principle that Britain and its allies will always defend."
Since May, several oil tankers and transport ships have been attacked in the Persian Gulf, Strait of Hormuz and Gulf of Oman, with Western countries blaming Iranian forces for the attacks.
Hunt did not detail which countries would form part of the mission but said the UK would "take appropriate action to support the safe passage of vessels" through the strategic waterway. However, Hunt had discussed tensions in the region with German Foreign Minister Heiko Maas and his French counterpart, Jean-Yves Le Drian, a day before.
But the foreign minister stopped short of linking Monday's plans with the US' "maximum pressure" policy on Iran, saying: "We remain committed to preserving the Iran nuclear agreement." Instead, he said the UK and others "will discuss later this week the best way to complement this with recent US proposals in this area."
Read more: Tanker attacks in the Gulf — evidence or warmongering?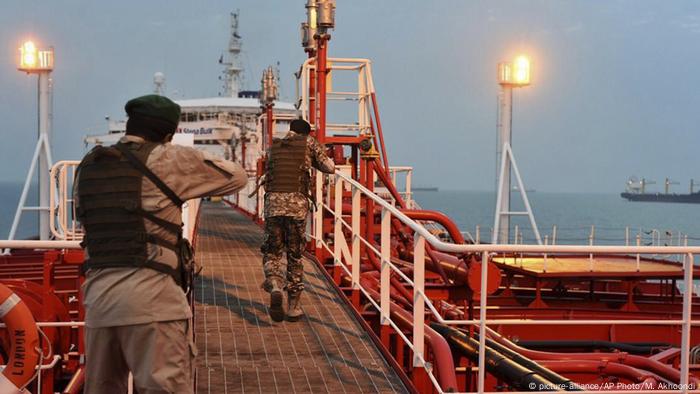 Last week, Iran's Revolutionary Guard seized the British-flagged oil tanker Stena Impero
Iran seizes UK vessel
Last week, Iran's Islamic Revolutionary Guard Corps (IRGC) seized the UK-flagged oil tanker Stena Impero in the strategic Strait of Hormuz after claiming that it failed to respond to distress calls and turned off its transponder after hitting a fishing boat. The ship and its crew of 18 Indians, three Russians, a Latvian and a Filipino are in the port of Bandar Abbas.
Britain said that there was no evidence the Swedish-owned tanker hit a fishing boat and that its transponders were in international waters. The seizure has prompted criticism of the government in London about why it had not taken more proactive measures to protect its ships.
European powers and the United States have called on Iran to free the Stena Impero.
The seizure of the Stena Impero comes two weeks after British Royal Marines impounded the Iranian supertanker Grace 1 off Gibraltar because of allegations it was taking oil to Syria in violation of EU sanctions.
Iran has referred to the British seizure of the Grace 1 as "piracy" and demanded the supertanker be freed.
Each evening, DW's editors send out a selection of the day's hard news and quality feature journalism. You can sign up to receive it directly here.
ls, cw/amp (AFP, dpa, AP)