The social network provider Twitter on Sunday carried a message that two band members had fled Russia to avoid arrest.
"In regard to the pursuit, two of our members have successfully fled the country! They are recruiting foreign feminists to prepare new actions!," a Twitter account called Pussy Riot Group said.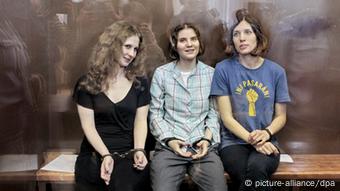 The three convicted members had originally faced seven years in jail
On August 17, a court in Moscow sentenced three members of the all-female opposition band to two years in prison on charges of "hooliganism motivated by religious hatred."
In February, at least five band members had performed what they termed a "punk prayer" at the Christ the Savior Cathedral where they called on the Virgin Mary to drive President Vladimir Putin out of Russia.
The women wore colored balaclavas throughout the brief protest and only three were identified and convicted - Nadezhda Tolokonnikova, Maria Alyokhina and Yekaterina Samutsevich. Earlier this week, police said they were still searching for the remaining band members.
'Beyond the reach of police'
Tolokonnikova's husband, Pyotr Verzilov, confirmed on Sunday that the two Pussy Riot members who had escaped Russia had taken part in the protest with his wife.
"Since the Moscow police said they are searching for them, they will keep a low profile for now. They are in a safe place beyond the reach of the Russian police," he told news agency Reuters.
Asked if that meant a country which had no extradition agreement with Russia, Verzilov said: "Yes, that suggests that."
"But you must remember that 12 or even 14 members who are still in Russia actively participate in the band's work now, it's a big collective," he added
Ruling condemned
The court ruling earlier this month against Tolokonnikova, Alyokhina, Samutsevich, drew fierce international condemnation from western powers and numerous human rights organizations.
German Chancellor Angela Merkel described the sentences as being "excessively harsh [and] not in harmony with the values of European law and democracy to which Russia has professed as a member of the Council of Europe." Putin dismissed the criticism, however, as being politically motivated.
According to their defense lawyers, the three women will appeal against their sentences next week.
ccp/ipj (dpa, DAPD, Reuters)