Donald Tusk has been re-elected as president of the European Council, but activists are asking whether there's leadership to be found anywhere on humanitarian issues.
In a letter to EU leaders signed by more than 160 NGO's, 28 heads of state and government are reminded that many of their countries are "full of people who were forced to flee their homes due to war and persecution," yet now, the letter states, "European nations are unwilling to respond in line with their obligations under international and European law, defaulting to responses that keep people far away and out of sight."


While Poland initially took the seat of summit troublemaker over the Tusk bid, it is Hungary that has once again shocked many and caused outrage with its attitude toward refugees and migrants. Though the "Western Balkans" - a euphemism for "the migration crisis" - is formally an agenda item, only Prime Minister Viktor Orban walked in saying migration would absolutely be his top priority, declaring defiantly that Hungary is "under attack" from critics.
That's because Hungarian policies are again dramatizing both the desperate plight of migrants backed up on EU borders after the Western Balkans route was shut down last year and the miserable failure of the forced EU-wide agreement to proportionally redistribute thousands of asylum-seekers already stranded in Italy and Greece.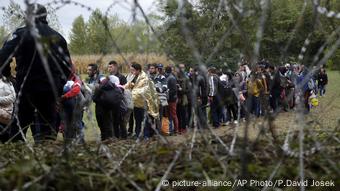 Migrants at the Croatia - Hungary border in 2015
Orban's government, infamous for erecting barbed-wire fences to keep people out, has now announced that it will, by the end of the month, be pushing migrants and asylum-seekers in any stage of their processing into camps consisting of plastic containers for housing. They will be barred from moving further into Hungarian territory, the route to other EU countries, until a status decision is received, a process than can take years.
Amnesty International is demanding Hungary walk back these measures, calling them violations of Hungarian, EU and international law.


Amnesty Balkan researcher Todor Gardos told DW his organization is hoping the Hungarian president will exercise his right to reject the proposed law because the country's constitution forbids discrimination based race and nationality. Gardos says Hungarian law also protects asylum-seeking children, who would also be locked up in the new container camps under the plan. Gardos is not particularly optimistic, but is undeterred. "I don't think things are going in the right direction, but that doesn't mean it's a lost cause," he said. "So we keep on asking the MS and the central EU bodies to wake up and start to welcome refugees on the one hand but also to hold member states to account for violations."
That is where Hungary may start to feel a pinch. The Central European nation is among the countries that is refusing to go along with a bitterly fought agreement that each EU country would allow the relocation of various numbers of pre-screened asylum-seekers into its territory. Hungary and other countries were forced to accept the deal and have been fighting it ever since, possibly wishing to opt out of accepting the people in favor of paying a per-person fee for rejecting them.
Now an idea bandied about in the past has been resurrected to punish those non-participants. The eastern countries most resistant to the relocation scheme also happen to be some of the recipients of the largest "solidarity" payments from the EU common budget. Commission statistics released last week show that only two countries, Malta and Finland, are fulfilling their obligations on track, while Hungary, Austria and Poland "are still refusing to participate in the scheme at all" and Bulgaria, Croatia, the Czech Republic and Slovakia are doing so in a very limited way.
No migrants, no money
Now, perhaps foreshadowing his own willingness to do his share, Austrian Chancellor Christian Kern says he wants to keep back the billions from those governments that don't help resolve the migration issue.
The concept is already getting traction in the European Parliament. Cecilia Wikstrom, reporting on the EU asylum system for the European Parliament's civil liberties committee, agrees with the creation of a penalty system rather than any potential opt-outs for cash.


On the Foreign Affairs committee, Austrian lawmaker Eugen Freund tells DW he agrees with Kern. "There should be an end to cherry-picking," Freund said. "Particularly eastern European countries have profited tremendously from EU membership, and it's time for them to share some of the burden."
He also wants those governments who won't allow refugees in to pay into refugee camps where they are being housed, in Turkey, Lebanon or Jordan, for example, to alleviate the hardships suffered there.
The NGO signatories aren't completely on board with that. Their appeal to leaders asks them specifically not to "expect countries like Turkey, Jordan and Lebanon to host millions of refugees, while simultaneously pushing migrants and refugees back at EU borders, stranding thousands in inhumane living conditions on the Greek islands, or pushing them back into an uncontrolled conflict zone like Libya."
These groups want more legal pathways to Europe, and they say that's what European citizens want too, despite plenty of evidence to the contrary. They ask the EU not to lower its standards so that other countries can't do the same. "Your decisions have life and death consequences," their letter said.