In separate statements from UNICEF spokespersons on Friday in Geneva, the UN organization tasked with protecting and defending the rights of children highlighted two threats to child migrants: the blisteringly cold temperatures that have settled in across southeastern Europe and the increasing number of unaccompanied children arriving via boat over the Mediterranean Sea.
Cold temperatures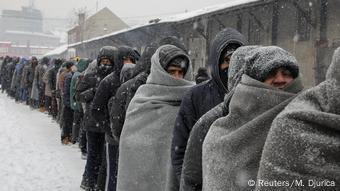 Refugees in Serbia wait for food in the cold
With temperatures in Greece, Italy, Romania and Turkey plunging 5-10 degrees Celsius (41-50 degrees Fahrenheit) lower than average, UNICEF appealed to European governments to help child migrants rather than maintain rigid bureaucratic procedures.
In a UN briefing in Geneva, UNICEF spokesperson Sarah Crowe said: "Children are particularly prone to respiratory illnesses at a time like this. It's about saving lives, not about red tape and keeping to bureaucratic arrangements.
"The dire situation right now is Greece," she added. The temperature on the Greek-Turkish border has reached -10 degrees Celsius at night, putting migrants at risk of frostbite and death from exposure.
Many migrants are currently housed in unheated shelters and dormitories. According to UNHCR, the UN's refugee organization, the Greek government moved hundreds of migrants to warmer accommodation on the islands of Lesbos and Chios. However, the agency noted that around 1,000 migrants, many of them children, remain in unheated tents on the island of Samos.
Children crossing alone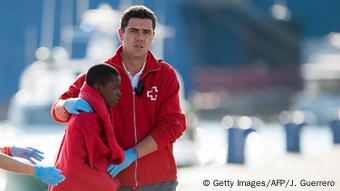 A Red Cross worker helps a minor who crossed the Mediterranean
UNICEF also announced on Friday that in comparison to 2015, twice as many unaccompanied children arrived in Italy in 2016 after crossing the Mediterranean by boat. The German section of the agency announced that last year's overall total was 25,800 unaccompanied minors landing in Italy, the majority of whom were young boys between the ages of 15 and 17.
"The growing number of highly vulnerable children who risk their lives to make it to Europe indicates an alarming trend," UNICEF emergency coordinator Lucio Melandri said.
UNICEF also reported that girls undertaking the journey alone face the particular risk of being forced into prostitution in order to pay for the transport across the sea.
Melandri called on European governments to aid fleeing minors through "a coordinated European solution" that protects young people from violence and exploitation, refrains from detaining them despite their legal status, and fights the root cause of flight in these children's homelands. The majority of the fleeing children come from Eritrea, Egypt, Gambia and Nigeria.
The unaccompanied sea journey occurs primarily to Italy, with 91 percent of all 28,200 minors who reached the Italian mainland in 2016 arriving without their parents in comparison to 17 percent of all underage sea arrivals to Greece.
cmb/sms (Reuters, dpa, epd)