The Polish Foreign Ministry on Saturday officially announced that Civic Platform (PO) Member of European Parliament Jacek Saryusz-Wolski would be forwarded as Warsaw's candidate for the post of European Council president, the Polish press agency PAP reported.
"I have just sent a diplomatic note to propose the candidacy of Jacek Saryusz-Wolski for the presidency of the European Council," PAP cited Foreign Minister Witold Waszczykowski saying.
The governing Law and Justice (PiS) party confirmed on Saturday that Poland will not support Tusk's bid for a second term.
Tusk's 30-month term as the president of the European Council is due to end on May 31. Malta, which currently holds the council's rotating six-month presidency, will oversee the process of choosing the council chair.
The European Commission has on several occasions chastised Warsaw for allegedly undermining democratic norms and institutions since coming to power in October 2015, a claim PiS vehemently denies.
Settling old domestic scores
PiS spokesperson Beata Mazurek said on Saturday that Tusk had "supported baseless sanctions against Poland," referring to the European Commission's threats to reduce Warsaw's EU voting rights if it failed to end its ongoing constitutional crisis.
PiS has accused Tusk of violating the principle of neutrality against a member state, engaging in EU actions against Polish interests, as well as supporting the Polish opposition.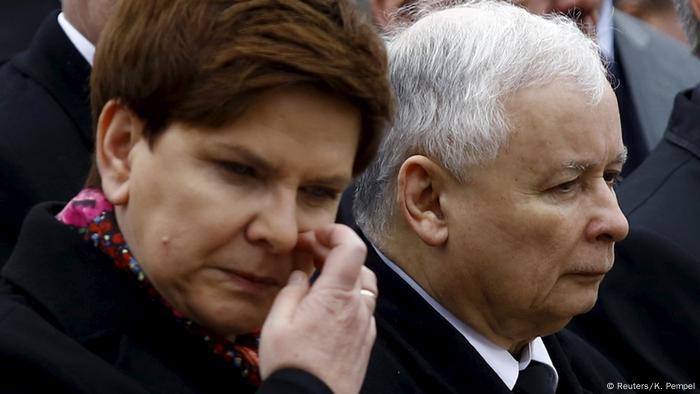 PM Beata Szydlo and leader of the Law and Justice (PiS) party Jaroslaw Kaczynski
Tusk - a former prime minister of Poland and co-founder of PO, the largest opposition grouping in parliament - is president of an institution that brings together the 28 heads of state and government will play a crucial role in Britain's negotiations to exit the EU.
PiS leader Jaroslaw Kaczynski has said Tusk was in favor of financial penalties for EU member states that do not accept a quota of refugees, which the Polish government opposes. "We simply cannot support such a person," he added.
Waszczykowski said in January that Tusk was an "icon of evil and stupidity" and that he should stay "far away from Poland." Kaczynski also holds Tusk "morally responsible" for the death of his twin brother, President Lech Kaczynski, in a plane crash in Russia in 2010, when Tusk was Poland's prime minister.
Tusk supported in corridors that matter
EU leaders believe Tusk has proven himself in his handling of issues such as Greece's economic woes, the bloc's migration crisis and the Brexit vote.
"There is only one official candidate so far," a spokesman for the Maltese presidency of the EU said.
"Everybody is… scratching their heads in disbelief (over Warsaw's stance). It just shows that Poland and its leader Kaczynski are completely out of touch with European politics," the first senior EU official said.
"The candidacy of Jacek Saryusz-Wolski is completely unrealistic," said Tomasz Siemoniak, deputy head of PO.
Privately, Hungarian officials have reportedly said their government favors Tusk's re-election, but publicly Hungarian Prime Minister Viktor Orban has yet to announce a preference.
jbh/sms (AFP, PAP)