Croatiaand Turkey both began negotiations to accede to the EU in October 2005. Yet while Croatia will become the EU's 28th member this coming Monday (01.07.2013), the prospects for Turkey's accession continue to waver.
EU foreign ministers agreed this past Tuesday in Luxembourg to restart the conversation with Turkey - but not until October. Delaying further talks represents a compromise suggested by Germany. Together with the Netherlands and Austria, Germany had resisted a reopening of talks planned for June.
EU reforms sought for Turkey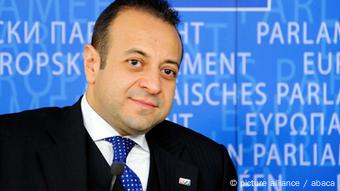 Turkey's Europe Minister Egemen Bagis had harsh words for Merkel
Accession negotiations came to a standstill about three years ago due to ongoing issues with democracy and human rights. From 2010, the last accession agenda included 35 separate topics.
The most recent glitches in Turkey's EU membership bid are a result of the current unrest in Turkey, and a subsequent diplomatic brawl between Ankara and Berlin. German Chancellor Angela Merkel had criticized the police intervention against demonstrators in Turkey as "far too harsh."
Turkey's European Affairs Minister Egemen Bagis, for his part, responded sharply: "If Ms. Merkel is looking for a topic to exploit in domestic elections, then she should look elsewhere than to Turkey," Bagis told reporters. The statement caused the German government to consider a blockade against further accession discussions.
Emre Gönen, a political scientist at the European Institute of the Bilgi University in Istanbul, finds Bagis' reaction inappropriate. "There are no internal affairs anymore - if you want to become a member of the European Union, your affairs become European," Gönen told DW.
Kemal Kilicdaroglu, head of Turkey's largest opposition party, the Republican People's Party (CHP), contacted Merkel and Dutch Prime Minister Mark Rutte in writing last week, appealing to them to open a new chapter of negotiations. The party's vice chairwoman Umut Oran commented on Erdogan's governing style in the Turkish daily "Hürriyet": "With the EU-oriented reforms, we can change these unjust policies and establish the rule of law. We can achieve higher democratic standards and so we can prevent any arbitrary authoritarian government actions."
Turkish democrats abandoned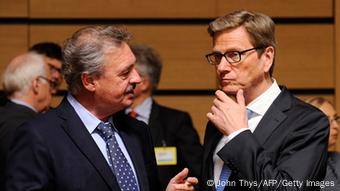 Jean Asselborn (Luxemburg) and Guido Westerwelle (Germany) at the EU foreign ministers' meeting
The EU's decision to resume accession discussions came as good news to Turkish Foreign Minister Ahmet Davutoglu. "What is important is the confirmation of the opening of the chapter with an irrevocable decision," Davutoglu told Reuters from Ankara. "An obstacle in Turkey's relations with the EU has been overcome."
Within the Turkish press, however, criticism of the European position has become louder. "Merkel's move to leave Turkish democrats alone," read columnist Barcin Yinanc's headline in the "Hürriyet." Yinanc wrote: "It seems that German Prime Minister Angela Merkel wants to delay Turkey's accession talks to the EU, using Ankara's crackdown on demonstrations as an alibi," referring to the upcoming election in Germany.
Yinanc thinks that putting off the accession talks won't help demonstrators who have taken to the streets in search of greater freedoms. "On the contrary it will play into the hands of Erdogan in manipulating its constituency about 'evil foreign forces,'" she continued.
The "Cumhuriyet" newspaper said that Turkey requires the EU as an anchor for many reasons, and that domestic reasons are behind any talk of giving up on an accession bid.
Comparing Turkey with EU states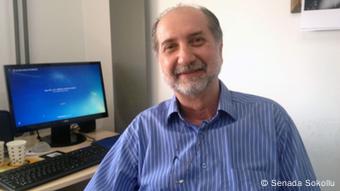 Gönen thinks EU accession will not guarantee democracy in Turkey
Ferhat Kentel, a sociologist at Istanbul's Sehir University, thinks Turkey's accession into the EU would be important not only for Turkey, but for the EU as well. Kentel told DW that it would help reduce tensions based on Islamophobia and promote world peace.
Kentel also said that when compared to countries like Bulgaria or Romania - former Soviet bloc states - Turkey is far better prepared for joining the EU. But he doesn't believe that Turkey's EU accession is a sure thing.
"Just the fact that Turkey is negotiating with the EU changes the situation in Turkey with regard to democratic standards," Kentel said. He emphasized that Turkish society's interest in EU accession has greatly decreased, only recently going back up with public appearances by politicians such as Erdogan or Merkel.
No automatic democracy through EU
Political scientist Emre Gönen said there was still plenty of room to improve the situation for democracy in Turkey. Free voting is "not enough. We have this administrative structure which is extremely centralized. Every decision is being made in Ankara," Gönen said.
Regardless, Gönen said Turkey needs the EU to develop itself. "The European Union will not bring in democracy," he said, pointing to the example of Romania. "You need to fight for democracy," Gönen concluded.