It's quiet in Istanbul. Things are back to normal. People are working, students sit in university lecture halls. The traces of the tumultuous past week are slowly being removed, the graffiti-covered walls are getting a new coat of paint. Insults and swear words directed at Prime Minister Recep Tayyip Erdogan are vanishing from Istanbul's streets. In Gezi Park, the symbol of the protest movement, police are still ready to prevent anyone from entering, but they are sitting on park benches, reading books, or playing with their cell phones.
Several hundred protesters are quietly standing in adjacent Taksim Square. The silent standing protest is their alternative to express themselves - no violence, no injured friends, no deaths. But the protesters aren't the only ones who stay silent. The majority of the Turkish population isn't talking publicly about its feelings or thoughts concerning recent events. With the violent police interventions and numerous arrests of protesters, doctors, lawyers and journalists, Erdogan has created a climate of fear. Many people are afraid to openly speak out.
Fed up with the situation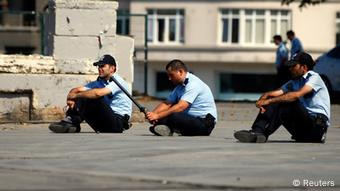 Policemen in Gezi Park on a break
Not many police officers are left in Gezi Park. More of them are patrolling the alleys and streets of Istanbul's city center in pairs. Their presence is hard to ignore. They're everywhere - in cafés, restaurants and supermarkets. "If someone told me I was allowed to leave, I'd leave at once," a police officer who wants to remain anonymous said, and added he was fed up with everything.
Most tourists spend their vacation time away from the action in Sultanahmet, a quarter that didn't see any riots. "We were incredibly sad when the park was cleared out by police," Christiane Conrad, 22, from Frankfurt said to DW. "We found many friends there, because the atmosphere was so relaxed and so open. It was easy to meet people." Conrad, an Islamic studies major, traveled to Turkey for an internship with a German foundation. She said that after asking her boss to get an overview of the situation in Gezi Park, he terminated her contract. His reason, according to Conrad: that would paint the foundation in a bad light.
Palpable fear
Hotel owners, in particular, are suffering from plummeting profits due to the protests. Over the past few weeks, police threw teargas canisters into the lobbies of fully booked hotels on several occasions. The smell of gas made its way into the individual hotel rooms as wel l- bad for business. Hotel doctors treated injured protesters in conference rooms.
Just a week ago, hotel employees were happy to at least vent their concerns to journalists. But now, it's "prohibited" to talk about the issue, an employee in a hotel close to Taksim Square told DW. One hotel owner complained about the economic loss he suffered: room rates fell by around 70 percent, the profit margin was just 20 percent. The hotel's front door is visibly damaged, the glass is completely shattered. When asked whether he could repeat his grievances into a microphone, the hotel manager shook his head. After that, he didn't say another word.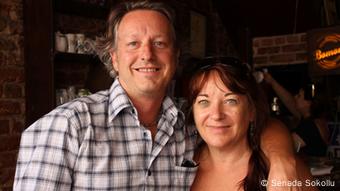 Robert and Claire witnessed the protests while on vacation
Restaurant owners and shopkeepers are also increasingly reticent. After numerous requests, a restaurant manager speaks about the riots: she has to deal with a 40 to 50 percent decrease in earnings. For three days, she had to completely close the shop. She, too, wants to remain anonymous.
The owner of a shop close to Taksim Square, on the other hand, likes the protests and "the way in which the protesters are demanding their rights. You're seeing it again now, with that 'Standing Still' protest: they're looking for any way to keep their freedoms."
"Still a democratic country"
Robert and Claire, a couple from Canada, have experienced the protests from the beginning on their cross-country trip. "The people here in Turkey are so nice. I hope they find a way to be understood," Claire told DW.
A French Erasmus exchange student was shocked by the police actions: "They injured many people," the young man said. "That increased tensions over the last few weeks. The police behavior is the most significant explanation for everything that happened afterwards." The student's father, a photographer, flew from Paris to Istanbul at the height of the protests and took photos in Taksim Square. He has traveled the world and said: "The riots and the police were violent. But this is still a democratic country, although, of course, the democracy could be better." He was not afraid, he said, because as a tourist it's different.