— Turkey is enraged about US plans for a Kurdish-led "border force" in Syria
— A Turkish attack would further strain relations with the United States
— It is unclear how Russia will respond
— Moscow has ties with the Kurds and controls airspace in Idlib and Afrin
Turkish artillery shelled the Kurdish-held area of Afrin in northwestern Syria for the third day on Monday, as Ankara threatened to act on long-running threats to root out Kurdish forces from near its border.
President Recep Tayyip Erdogan warned of an imminent attack on the Kurdish-held enclave located near the Turkish border, saying in televised remarks on Monday that military "preparations have been completed; the operation could start at any moment."
Afrin is controlled by the Peoples' Protection Units (YPG), a Kurdish militia that Ankara considers a terrorist organization linked to the Kurdistan Workers' Party (PKK), an outlawed group waging a four-decade insurgency inside Turkey.
A Turkish assault on Afrin would further strain ties with the United States over Syria and a US-based Turkish cleric Ankara blames for a failed coup in 2016.
The YPG is the main component of the US-backed Syrian Democratic Forces (SDF), a force that includes Arabs and has been at the forefront of the fight against the "Islamic State" (IS).
Rojhat Roj, the YPG spokesman in Afrin, said Kurdish forces would "defend our gains, our territories" in the event of an attack.
The YPG have occasionally skirmished with the Turkish military and Turkish-backed rebels throughout the Syrian civil war.
Border force
Erdogan also warned the United States after Washington on Sunday announced plans to create a 30,000 strong border security force, half of which would be SDF fighters. US-led coalition officials said more than 200 new cadets had already been recruited to the force.
The border force announcement comes as the offensive against IS winds down and the focus turns to maintaining internal security in SDF-controlled areas.
"America has acknowledged it is in the process of creating a terror army on our border. What we have to do is nip this terror army in the bud," Erdogan said Monday.
Erdogan has repeatedly vowed to crush the Kurds in Afrin.
Syria and Russia also condemned the planned border force, accusing the United States of failing to protect Syria's sovereignty.
Washington "doesn't want to preserve the territorial integrity of Syria," Russian Foreign Minister Sergey Lavrov said Monday.
The Syrian government called the border force "a blatant encroachment upon the sovereignty, unity and territorial integrity of Syria" and a violation of international law.
Turkish fears
The SDF now controls about 25 percent of Syria's territory in the north and northeast.
The rapid successes of the SDF have raised concerns in Turkey about what an endgame in Syria will look like now that the fight against IS has de-escalated and the Assad regime has also retaken large parts of the country from rebels after Russia intervened militarily in late 2015.
The Syrian Kurds have created facts on the ground and set up autonomous structures for what they envision to be a future federal structure in Syria. They claim they have no desire for independence.
But Turkey fears the empowerment of Syrian Kurds will have a knock-on effect on its own Kurdish minority. Ankara also wants to prevent what it views as an embryonic PKK statelet on its southern border.
In this context, from Ankara's viewpoint, Afrin is a point of leverage over the Syrian Kurds.
Turkey preps offensive
Erdogan's signal of an imminent military intervention against Afrin comes after Turkish-backed rebels and the Turkish military in October moved into parts of the northwestern Syrian province of Idlib to implement a "de-escalation" zone.
The move was part of a deal with Russia and Iran, both key backers of the Assad regime. Idlib is one of the last major rebel pockets in Syria and is largely controlled by an al-Qaeda-affiliated rebel alliance.
Hundreds of thousands of internally displaced civilians are camped out in the province, raising concern that a Russian and Syrian offensive in recent weeks could send a new refugee flood across the border to Turkey.
The Turkish military has set up observation posts and other positions in Idlib just south of Afrin, which is effectively surrounded by Turkey and Turkish-backed rebels.
Rebels backed by the Turkish military carved out a "safe zone" in northern Aleppo province earlier last year after a monthslong offensive that pushed IS from a section of the border.
The Turkish-backed military operation, known as Operation Euphrates Shield, was designed to remove IS from a section of the border and block the SDF from connecting areas under their control in the east with Afrin further to the west.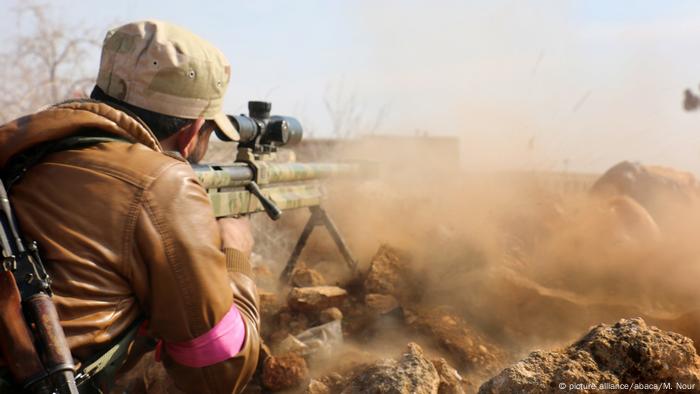 Operation Euphrates Shield involved Free Syrian Army fighters backed by Turkish forces
Question marks over Russia
Turkey was one of the biggest supporters of rebels seeking to oust the Assad regime, but Ankara's calculation changed after Russia's military intervention made it clear that toppling the regime was unrealistic.
Turkey has since focused on working with Russia and Iran to end the conflict and set its sights on thwarting Kurdish gains.
However, Russia also has political ties with the Syrian Kurds and has sought to include them in Moscow-backed Syrian peace talks in Sochi despite Turkish resistance.
On several occasions, Russian military officials in Syria have made a point of appearing in pictures with the YPG/SDF, including late last year during an offensive to clear IS from the eastern province of Deir el-Zour.
In other instances, Russia commanders have posed with YPG flags and fighters in Afrin, where Russia reportedly has a small military base.
These public displays of closeness came at times when Turkey was threatening Afrin, in a sign that Russia may act as a break on any future Turkish offensive against the enclave.
Russia controls the airspace over Afrin and Idlib, making a Turkish intervention without Moscow's sign-off militarily and politically difficult.
At the same time, Russia seeks to further open a chasm between Turkey and the United States, and hence within NATO.
By playing the proverbial Kurdish card and signing off on a Turkish offensive against the YPG/SDF in Afrin, Russia would aid that goal but at the expense of other objectives in Syria.
cw/tj (AP, AFP)