Tunisia has rejected a proposal by Italy's Interior Minister Roberto Maroni to deploy Italian police within the North African country to stop illegal immigrants, calling it "unacceptable."
The Tunisian government said Monday it was "ready to cooperate" with any governments but would not tolerate interference in its internal affairs.
"Tunisia ... expresses its surprise at this stance [from the Italian minister] and confirms that it categorically rejects any interference in its internal affairs or any infringement of its sovereignty," Tunisia's official news agency quoted the Foreign Ministry as saying.

Italian Foreign Minister Franco Frattini was to arrive in Tunis on Monday evening for talks with caretaker Prime Minister Mohamed Ghannouchi.

Since Wednesday, some 5,000 refugees have arrived on the Italian island of Lampedusa, according to local authorities. The majority are Tunisians seeking asylum in the wake of the political unrest that unseated President Zine El Abidine Ben Ali last month.
EU offers assistance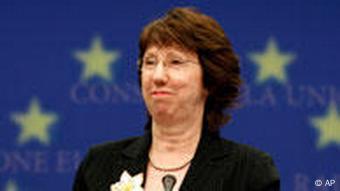 Ashton is to meet with members of Tunisia's interim government
European Union's foreign policy chief, Catherine Ashton, also traveled to Tunis on Monday for meetings with officials of the interim government. She is due to meet with Prime Minister Ghannouchi and relief agency officials.
The European Union agreed Sunday to help Italy cope with the "exceptional pressure" after the Italian cabinet proclaimed in a statement it was dealing with "a state of humanitarian emergency."
Rome said the decision would enable authorities "to take immediate action needed to control this phenomenon and assist citizens who have fled from North Africa."
After an appeal from Rome to Brussels for help, Home Affairs Commissioner Cecilia Malmström was said to be "fully aware of the exceptional pressure on Italy."
A commission spokeswoman said the response was being addressed partly through the Frontex agency, a Warsaw-based European body that coordinates resources to patrol EU borders.
"Commissioner Malmström is in contact with the Frontex agency and with the European asylum support office to examine how they can assist the Italian authorities," she said.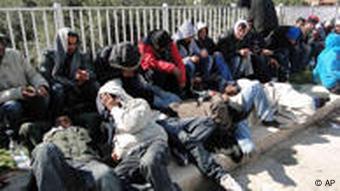 Italy will require immigrants to apply for asylum
Chance for a re-think
Isabel Schäfer, a senior researcher in international relations and Mediterranean studies at Humboldt University in Berlin, said the flight of so many Tunisians could present the EU with an opportunity to work on a common migration policy for the bloc.
"Immigration policies in Europe have run into problems in the past, and this is because, in a sense, they are still being created," she told Deutsche Welle. "Many regulations that exist today are bilateral agreements, such as between Italy and Tunisia, or Italy and Libya.
"A common immigration policy is still being developed. But we could take these historical events in North Africa as a chance to deal with this question in more detail, and to formulate an independent European migration policy which is more long-term than anything we have now, and which must also go beyond simple border protection."
Many of the refugees arrived packed into small fishing boats intercepted by Italy's coast guard and then taken to Lampedusa.
The arrivals are threatening to overwhelm local authorities on the small island, who announced they would reopen one of several camps designed to house illegal migrants that was recently shut down.
Italy has begun to transport the majority of the immigrants to identification centers in Sicily, but authorities are struggling to keep up with the influx. Should they fail to make a case for asylum, most of the refugees will be deported back to Tunisia.
Authors: Richard Connor, Martin Kuebler (AFP, AP, dpa, Reuters)
Editor: Chuck Penfold