Alexis Tsipras said his government was working towards making the emergency eurozone summit on Monday a "success." Finance ministers of countries using the euro currency announced a summit for Monday to resolve Athens' prolonged debt crisis that threatened Greece's exit from the euro.
Summit in focus
"We hope that the final negotiations take place at Europe's highest political level and we are working towards the success of this summit," Tsipras' office said in a statement on Friday, a day after citizens rallied on Athens' streets, pressing the government for a solution to their hardships.
"The [eurozone] leaders' summit on Monday is a positive development on the road toward a deal," his office said, adding that all those who were "betting on crisis and terror scenarios" would be proven wrong.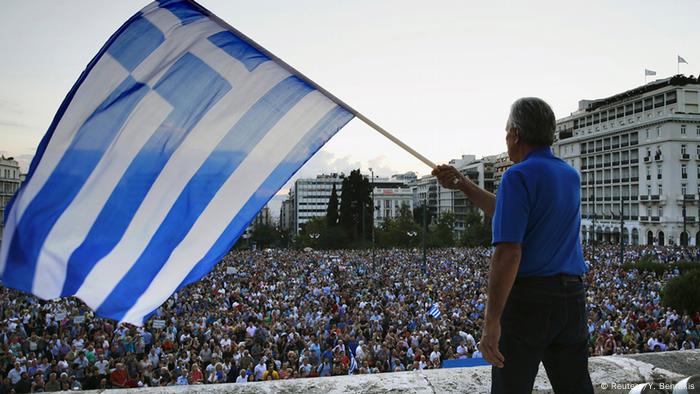 A protester waves a Greek flag at the entrance of the Greek parliament, during a rally calling on the government to clinch a deal with its international creditors
EU leaders would gather and find a solution based on "respecting EU rules and democracy," Tsipras emphasized, after the Greek central bank warned earlier this week that the country would crash out of the eurozone if it failed to reach an agreement with its creditors, the International Monetary Fund (IMF) and the European Central Bank (ECB).
ECB emergency session
The governing council of the European Central Bank was meanwhile planning an emergency session, also on Friday, to discuss the Bank of Greece's request for extra liquidity. Withdrawals from Greek banks have increased in the last few days.
Athens is running out of time to pay a 1.6-billion-euro loan installment to the IMF by the end of this month. It needs to implement pension and labor reforms before eurozone countries free the last tranche of 7.2-billion-euro worth of economic aid, part of Greece's 240 billion euro financial package.
mg/jil (AFP, Reuters)