The White House announced plans late on Monday to nix a temporary residency program put in place for Haitians after the devastating earthquake that wrecked havoc on their country in 2010, despite the fact that country is still one of the poorest on earth and has only been partially rebuilt since the quake seven years ago.
"Since the 2010 earthquake, the number of displaced people in Haiti has decreased by 97 percent," the Department of Homeland Security said. "Haiti is able to safely receive traditional levels of returned citizens."
Homeland Security said the temporary residence permits would be extended just one more time – allowing the Haitians to remain in the United States until July 2019.
Temporary Protected Status (TPS) has allowed around 58,700 Haitians to work legally in the US after their initial visas expired. Many of them live in Florida, which has a Haitian community some 424,000 strong and about 27,000 US citizens are the children of Haitian TPS recipients.
Acting Homeland Security Secretary Elaine Duke said that she had met with Haitian Foreign Minister Antonio Rodrigue and Ambassador Paul Altidor in Washington to discuss the program.
Duke said the 18-month process would help facilitate an "orderly transition," and help Haitians either arrange for a more permanent visa or for their repatriation.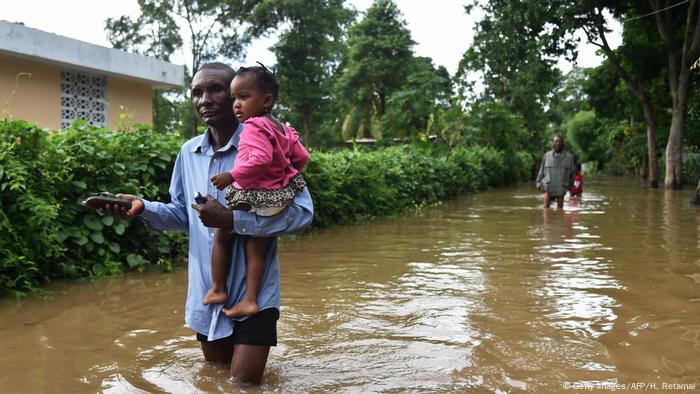 A recent spate of hurricanes has had devastating effects on an already ravaged Haiti
'Haiti remains in total disarray'
But the move has been met with considerable backlash amongst both pro-immigrant groups and even lawmakers from President Donald Trump's own party.
Republican Representative Mario Diaz-Balart of Florida voiced his "strong opposition" to the decision in a press release and urged the administration to rethink its plan.
"Forcing them to leave the United States would be detrimental," he wrote. "Almost eight years later, Haiti remains in total disarray and still requires much rebuilding."
Although Haiti has made some strides since 2010, poor administration and political upheaval mean that large parts of the country still need to be rebuilt. Unhygienic conditions, disease, extreme poverty, violence against women and child labor are rampant problems.
Roughly a quarter of the country's 2.5 million inhabitants live on less than $1.23 (€1.05) a day. According to Human Rights Watch, both natural and political disasters have "hindered the Haitian government's ability to meet the basic needs of its people, resolve longstanding human rights problems, or address continuing humanitarian crises."
The nation is also suffering from a cholera epidemic that "has claimed more than 9,300 lives and infected more than 780,000 people in five years."
The move against Haitian immigrants is part of a wider crackdown implemented by President Trump, including far-reaching travel bans to the US that have faced criticism of racism and Islamophobia, as well as throwing the lives of tens of thousands of immigrants and potential immigrants, some of whom already had visas issued, into chaos. The so-called travel bans continue to be challenged in US courts.
This is the third time the Trump administration has rescinded TPS protections in recent months. The White House has also begun the process to remove immigrants from Honduras and Nicaragua from the program.