"Freedom of speech and assembly exist, so we have no comment on Greek politicians' visits to Russia," commented the EU Commission spokeswoman briefly on recent Greek government accounts regarding Prime Minister Alexis Tsipras' pending visit to Moscow.
In an interview with the Russian news agency TASS, Tsipras, who is expected in Moscow on April 8, said he thought the EU's sanctions on Russia for the Ukraine crisis was "pointless" and that this policy would lead to a "dead end." He expressed his opposition to an extension of the EU sanctions, which would be due in late June at the latest.
Mina Andreeva, spokeswoman for the European Commission, pointed out that the Greek prime minister had supported the sanctions at the last EU summit two weeks ago. They should remain in force until the Minsk Agreement for peace in Ukraine has been put into practice. "We know of no change of opinion of any government right now," the spokeswoman said dryly.
"Spring between Greece and Moscow"
The flagrant intimacy demonstrated by Prime Minister Tsipras' SYRIZA party toward Russian President Vladimir Putin makes some observers in Brussels nervous. Could Greece actually opt out of the phalanx of European policy in the Ukraine conflict in order to acquire economic benefits from Russia?
The head of the conservative German members of the European Parliament, Heribert Reul, warned in Brussels, "Membership in the EU means reliability and trust - and not trickery. Whoever plays with fire and seeks help from Russia will get burned! "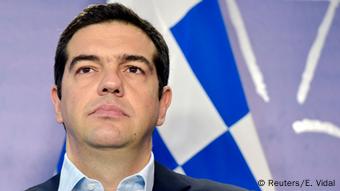 Looking toward the East: Tsipras' relationship with Moscow unnerves some
Russia "not an alternative" to EU
Greek Energy Minister Panagiotis Lafanzanis has already been in what can be seen as preliminary talks in Moscow on Tuesday to prepare for Tsipras' journey. Later on in Moscow, he said Greece is very interested in a new pipeline project for gas supplies. Furthermore, it was the first time Russian companies were interested in tenders for oil and gas extraction off the Greek coast. This was a seminal move. However, no one knows the truth, because in a recent trip to the US, the Greek defense minister claimed that oil and gas reserves would be shared with the United States.
The government in Athens also hopes that Russia loosens the counter-sanctions against Greek food imports. Moscow responded to the EU's sanctions with import restrictions, and reversing them is Moscow's business. "This is not about a common EU policy," said EU diplomats in Brussels.
At the last meeting of foreign ministers of the European Union, Greek Foreign Minister Nikos Kotzias asked for financial compensation from the EU since his country has been suffering greatly from Russian countermeasures, but the EU opposes it. European Commissioner for Economic and Financial Affairs, Pierre Moscovici, disapproves of the overtures between Athens and Moscow. "Greece's place is in the eurozone, together with 18 other euro countries," Moscovici said to the Portuguese newspaper Diario de Noticias. It is clear that Russia is not an option for Greece," Moscovici stressed. However, one can be sure that the nearly bankrupt country will try to get discounts on gas or even direct credits in Moscow, EU diplomats say in Brussels.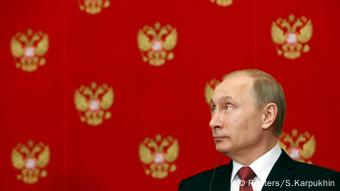 Reaching out to Greece could be a path to influencing EU foreign policy
Second trip to Moscow in May
President Putin's visit from Greece is timed well. He is obviously hoping that the Greek prime minister will take the opportunity to speak out against the extension of the sanctions on his country. For historical, cultural and religious reasons, Greece has been loyal to Russia, observes a Moscow foreign policy specialist, Fyodor Lukyanov. It is "a good means of influencing EU policies," Lukyanov said to Germany's online news portal Spiegel Online.
Alexis Tsipras will be in Moscow on May 9 for the victory celebrations commemorating the 70th anniversary of the end of World War II. Many other European leaders have decided to skip the ceremony with President Putin in view of the annexation of Crimea by Russian troops.
Once again, Athens is threatening to go bankrupt
Negotiations between the Euro Group in Brussels and the Greek government on the reforms and payment of aid loans have not progressed. Both sides do not expect further discussions or even the hint of an agreement until next week. Right now, there is no mutual understanding as to whether Athens has submitted a sufficient list of reform proposals: The Euro Group says no; Greece says yes. As a precaution, Greek Interior Minister Nikos Voutzis has again raised the specter of the country's bankruptcy.
If lenders do not supply Greece with money before April 9, Greece will not repay the 450 million euro debt to the International Monetary Fund. Such a step is tantamount to Greece declaring bankruptcy and would catapult Athens out of the eurozone banking system. EU Council President Donald Tusk does not expect a solution for the current debt crisis before April 24, when the European finance ministers meet for a long-planned meeting in Riga.