On Saturday, more than 2,000 protesters marched in Berlin in support of two journalists who prosecutors allege were involved in revealing authorities' plans to expand online communication surveillance.
Demonstrators marched from the central Friedrichstrasse to the Justice Ministry under the slogan "For fundamental rights and freedom of the press."
According to a police spokesman, the demonstration proceeded smoothly as protesters followed the planned route carrying placards with slogans such as "RIP democracy."
"Treason? Whoever reacts with such panic, surely has too much to hide!" read another.
Digital rights blog "Netzpolitik.org" called on supporters to demonstrate after an investigation was launched last week into two of the site's journalists, Markus Beckedahl and Andre Meister, over claims of treason.
Germany's domestic intelligence agency, the Federal Office for the Protection of the Constitution, filed a complaint against the journalists after they published two articles on "Netzpolitik" earlier this year quoting a highly confidential parliamentary committee report on a new unit to monitor the Internet, especially social media.
The award-winning website reported that the investigation was not only to an attack on the critical reporting of the blog itself, but also "an attack on freedom of the press."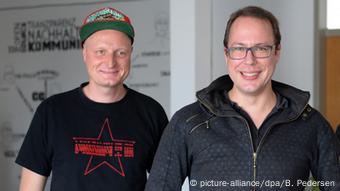 "Netzpolitik" journalists Markus Beckedahl and Andre Meister
The investigation was also hugely criticized by journalists. German journalists union DJV condemned the judicial process as "an inadmissible attempt to muzzle two critical colleagues."
Multifront backlash
Following the public and media backlash, on Friday German Federal Prosecutor General Harald Range said he had decided to halt investigations, adding that his office would not initiate criminal prosecution, taking into account Germany's legacy of press freedom.
Instead, initial investigations would try to find out whether the material published was classified as secret in the first place.
"Until the expert opinion comes in, the investigations will be stopped," Range told the "Frankfurter Allgemeine" newspaper.
As protests got underway on Saturday, however, criticism of Range continued to mount, with Germany's Social Democrats (SPD) and Left party both calling for the federal prosecutor to step down.
Christian Flisek, the representative for the SPD in the German parliament's NSA inquiry, called the probe "just embarrassing."
"It's time to pack his bags," he wrote on Twitter.
ksb/jlw (dpa, epd)