A refugee camp smack in the middle of Jordan's dusty, desert panhandle might seem an unlikely place to make innovation history.
Yet the Azraq camp for Syrian refugees has done just that, by becoming the world's first "clean energy refugee camp." On May 17, the UN refugee agency, UNHCR, switched on the camp's newly constructed 2-megawatt photovoltaic plant.
The solar plant will initially provide cheap and sustainable electricity to 20,000 Syrian refugees. Once it is upgraded in a couple of months from 2 to 5 megawatts, solar electricity will be made available to another 15,000 people, and is expected to meet all the camp's energy needs, according to the UNHCR.
Jordanian firm Mustakbal, meaning "future" in Arabic, which built the facility, says the 2-megawatt plant will produce 3.6 million kilowatt-hours per year, saving 2,370 tons of CO2 emissions - equivalent to the carbon sequestered by 65,568 tree seedlings grown for 10 years.
A ray of light
Azraq camp opened in April 2014, after Jordan's largest camp for Syrian refugees in Zaatari maxed out. Some 100 kilometers east of the capital of Amman, it's situated in an area of desert that's blisteringly hot in summer, bitterly cold in winter, and frequently ravaged by dust-filled winds.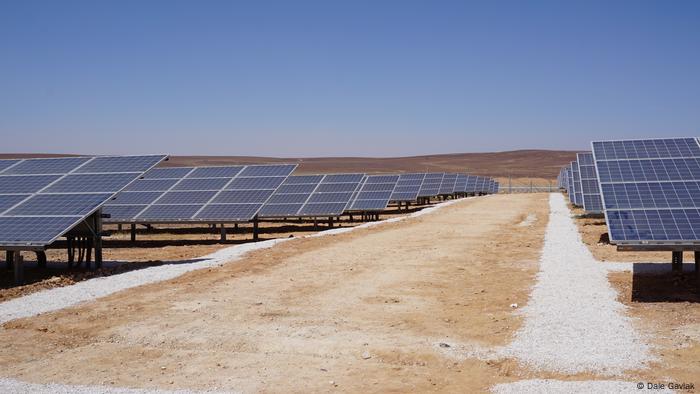 The camp is located on a barren stretch of desert, but it does have one natural resource in abundance - sunlight
The UNHCR said that until recently, the camp's residents had only sporadic access to electricity. "This made daily activities difficult, such as cooking, washing the clothes, studying, walking safely to the washroom at night - especially for women and children," the UNHCR said.
Um Nasser, who fled to Jordan from the Syrian city of Homs, testified to that during the inauguration of the solar plant. "Now, it's so wonderful have electricity all day, every day," she told DW.
"Can you imagine what it has been like for me, having 10 children who cannot study or do their homework in the evening because of a lack of lighting?" she asked wearily. "Often, they had to sleep very early because there was nothing else they could do."
Electricity a human right?
"Electricity has not traditionally been viewed as a need for refugees," UNHCR representative to Jordan Stefano Severe said at the inauguration.
"However, for those living in refugee camps, the importance of electricity goes beyond mere comfort. It impacts their security, health, education and helps to improve the quality of life away from home."
At Azraq, the lack of lighting made life not just difficult but dangerous, because of the snakes, scorpions and packs of wild dogs that roam the desolate terrain.
When the camp first opened, shelters weren't wired for electricity and there were no street lamps. Women and girls didn't feel safe going outside to use the public washrooms. Many resorted to washing as best they could inside their shelters, compromising their hygiene and causing drainage problems over time.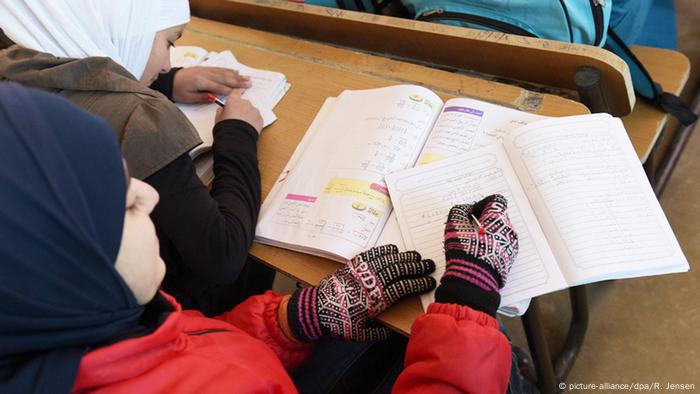 Child refugees who can now study schoolwork in the evenings, thanks to lighting in their shelters
For the past two and a half years, the refugees have relied solar lanterns provided by the Swedish Ikea Foundation. Street lights were eventually installed in just one area of the vast camp.
Innovation for people and the planet
Now, the IKEA Foundation has funded the nearly €9-million solar plant through its "Brighter Lives for Refugees" campaign. For every LED light bulb IKEA sold during the campaign from 2014 to 2015, the foundation donated €1 to the UNHCR to fund renewable energy and education for refugees.
The UN refugee agency said each family in the camp could now connect a fridge, TV and fan, have light inside their shelter, and charge their phones - critical for refugees to keep in contact with their relatives abroad.
"We can embrace new technologies, innovation and humanity while helping refugees," UNHCR deputy high commissioner Kelly Clements added.
According to the IKEA Foundation, Azraq's solar plant has become a prototype for possible projects in refugee settings in nine other countries. At Azraq, it will save the UNHCR $1.5 million annually, which IKEA Foundation CEO Per Heggenes said could now be spent on educational, health or development programs for Syrian refugees.
That's aside from the environmental benefits, which Heggenes told the inauguration gathering could "reduce the impact climate change has on the community."
Kicking off a Jordanian energy transition
And the implications of this project could have much wider benefits for Jordan.
Ala Qubain, the engineer at Mustakbal who headed the project said that once the camp is no longer needed, "This power plant will remain as a contribution to Jordan to reduce its dependence on foreign fuel supplies."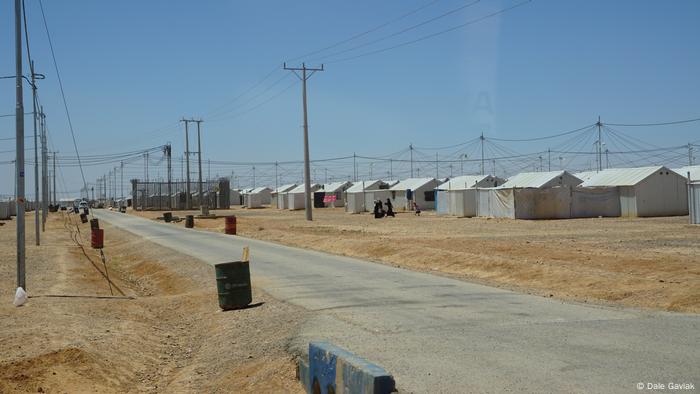 An unlikely place to kick off an energy revolution?
Jordan lacks the bountiful oil reserves of neighboring Saudi Arabia and other Gulf States and has struggled with its electricity supply.
Qubain said it has taken time to introduce renewable energy to Jordan, despite abundant sunshine and wind, because the necessary legislation had to be in place first, and the money made available.
"Since three or four years, the legislation was developed to develop renewable energy plants in Jordan," Qubain said. "Maybe it could have happened before, but we should be proud compared to the Gulf and the region around Jordan. We are at the beginning of the curve."