Roughly 10,000 temple festivals and processions take place in Kerala annually, and many of them involve elephants. Decked in heavy ornaments and colorful decorations the elephants are made to carry heavy religious idols during long, crowded processions to the loud accompaniment of hundreds of drums.
These temple processions are undoubtedly a spectacle to watch and they attract visitors not just from other parts of India, but also from abroad, contributing in part to the state's tourism coffers.
Read more: Noah's Park: Saving elephants from the flood
Of all the captive elephants in India, Kerala alone has nearly one-third of them, with the numbers standing above 500. Many of them are owned by temples and wealthy individuals as owning an elephant remains a feudal status symbol. Depending on the status of an animal, a single elephant can fetch up to $5,000 (€4,300) of revenue per day. Some captive elephants are also used in the timber industry.
Yet, despite their roles in religious celebrations, these gentle giants' often live in miserable conditions. This year alone, as many as 17 captive elephants, including three females, have died since January. Almost all the animals have suffered unnatural deaths with animal rights activists alleging "torture and neglect" as the primary reasons.
Government authorities have stepped up their efforts to address the deaths through strict implementation of regulations. However, activists contend that the existing state of affairs is unlikely to improve unless all the stakeholders, including the owners, mahouts and officials, take the animals' welfare seriously.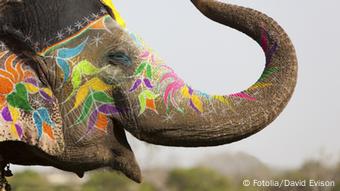 The elephants' ornamental decorations provide convenient cover for their scars, wounds, blindness and other injuries, says VK Venkitachalam
Cruel conditions
VK Venkitachalam of the pro-animal group Heritage Animal Task Force told DW that almost all of these elephants are deaf due to constant exposure to loud drums for several hours, while their ornamental decorations provide convenient cover for their scars, wounds, blindness and other injuries. Almost all the captive elephants in Kerala also suffer from severe lung disorders and intestinal problems owing to poor maintenance and gross negligence.
"All the elephants that died recently were aged between 22 and 45 years. Most died due to torture and neglect and many died close to festival venues," Venkitachalam added.
Based on the size, anywhere between five and 120 elephants can take part in a single temple festival, with the largest occasion, Thrissur Pooram, boasting more than 100 jumbos. Some environmentalists have even branded those involved in handling the elephants during the festive season as the "festival mafia."
Venkitachalam underlined that the elephants' owners hardly follow regulations and the creatures are forced to participate in festivals for 12 hours non-stop a day. They are then immediately transported to other venues in large open trucks, spending this entire journey standing.
Overworked and deprived
Intense overwork, inadequate rest, dehydration and scant food are often labelled as the primary causes for the sharp decline in elephant numbers over these past few years. On many occasions, the elephants are made to walk on hot tar roads despite the government's regulations that prohibit the use of elephants in parades between 11 am and 4 pm.
This is in addition to the sexual starvation among bull elephants during their "musth" phase between November and April. This is an annual condition in males, where there is a large rise in reproductive hormones and is characterized by highly aggressive behavior. Ideally, this is when the animals should be given space to walk and mate. Instead, there have been reports in the state suggesting that elephant owners inject the animals with drugs to suppress their hormones during the musth period, which also significantly damages their internal organs. Post-mortem reports of dead elephants have indicated that many of their intestines were filled with worms.
In 2016 and 2017, 46 captive elephants died across Kerala. The dearth of elephants means extra workload for the remaining healthy captive elephants — thus continuing the vicious cycle.
These alarming signs resulting in the deaths of elephants have forced the government to issue a special notification to owners. In it, Kerala's chief conservator of forests and chief wildlife warden, PK Kesavan, wrote: "Of late, a large number of complaints are coming from members of the public at state/national and international levels about the ill-treatment of captive elephants." Action for Elephants UK, a non-profit organization, has labeled Kerala as "ground zero for elephant torture" and has called their treatment "the worst case of animal cruelty in the world."
Read more:
Is India's IT capital running out of water?
The curious case of India-North Korea relations
Government efforts
Officials have acknowledged the "unusual" number of deaths of elephants in recent months but added they are still waiting for a full report on the situation to determine whether there is any pattern involved.
Another reason that has been given is the lack of requisite knowledge among owners regarding the animals' biological makeup and behavioral patterns, which lead to chronic mismanagement.
Kesavan told DW that there is only an interim report to date and he confirmed all recent deaths were due to unnatural causes such as impaction (blocking of fecal matter in digestive organs), intestinal issues and other ailments. "These deaths certainly look unusual. We are also quite concerned about what could be the actual reason."
When asked what could have possibly caused the deaths, he said, "The traditional relationship involving love between an owner and an elephant is on the decline. Slowly, commercial interests are taking over. So, we are also stepping up our efforts in closely monitoring the situation."
Kesavan also pointed out that the government is required to work within the rules when it comes to conservation practices, adding that if the existing regulations do not serve the necessary purpose, the government will not hesitate to enforce stricter measures for course-correction.
The issue also has economic implications, as the tourism sector — which remains a key revenue generator for the state government — is feeling the heat because of the increasing negative publicity generated by these elephant deaths.