"MEGA": Make Europe Great Again. Recreating the iconic "Hope" posters from Barack Obama's 2008 US presidential campaign, not to mention riffing on Trump's "Make America Great Again" slogan, the poster (pictured above) is just one of many memes to bear the face of Social Democrat (SPD) Martin Schulz in recent weeks.
Ever since announcing last month that the former president of the European Parliament was to run against Merkel in September's parliamentary elections, the Social Democrats have enjoyed a huge boost in opinion polls. A poll released Friday by the German broadcaster ZDF saw the SPD climb six percentage points to 30 - leaving them four behind Merkel's Union, which fell by two percent.
And now, riding the wave of popularity, Schulz has taken on a different guise thanks to a group of ardent Schulz enthusiasts on the semi-satirical subreddit "r/The_Schulz." From Robin Hood to Jesus, Schulz has been making apperances as all manner of famous figures, not least as the Prince from Germany's much-loved Prinzen Rolle cookies that originally came from Belgium - much like Schulz who returned to Berlin from from Brussels.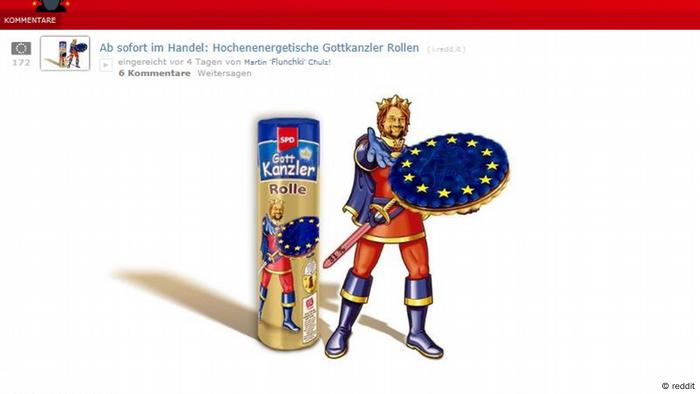 Another post that uses popular meme material from the music video to Drake's 2015 hit single "Hotline Bling" simply states: "Me, during the election."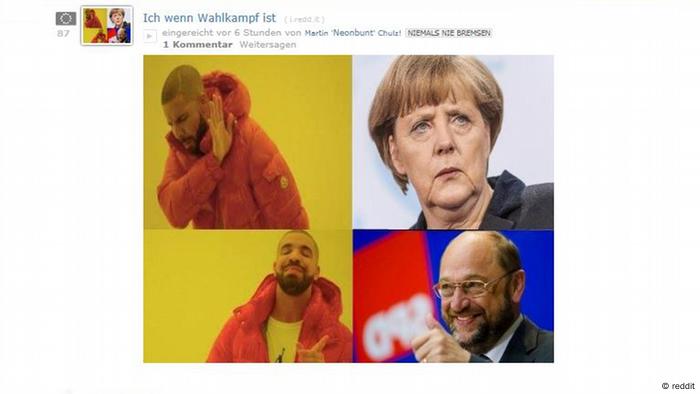 In a parody of the 1994 thriller "Speed," another meme (below) reads: "No Breaks. Next Stop: Chancellery"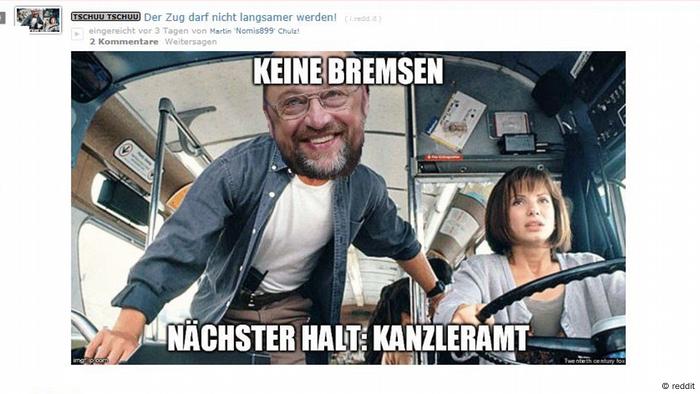 Many of the memes on reddit were posted by Twitter user @keineBremsen (No brakes).
One reads: "Guaranteed to not make any secret Russian agreements ... can speak namely only French, English, Dutch, German, Spanish and Italian."
Some go back to basics, taking a swipe at the right-wing populist party Alternative for Germay (AfD) as Schulz drinks from a cup labelled "AfD tears."
Reddit users going by the name of "Schulzenbrothers" have gone so far as to create the "Schulzzuglied" (Schulz train song), which has already garnered almost 150,000 hits.
"Good luck! Good luck!" sing the anonymous users. "The Schulz train is rolling! And he has no breaks, travels at full speed into the chancellery, into the chancellery."
'Half-serious satire'
Inspired by "r/the Donald" subreddit, which spawned a plethora of memes for US President Donald Trump during his 2016 election campaign, "r/The_Schulz" has slowly been picking up momentum since Trump entered the Oval Office.
However, where "r/the_Schulz" is being sold as a "half-serious satire" of "r/the_Donald," the subreddit for Trump soon turned into a stomping ground home for homophobic, nationalistic and racist slogans.
'Jump on the Schulz train'
But the satirical allusions to "r/the_Donald" are clear, with references to the "God Emperor," "high energy" - a phrase which was coined by Trump himself" after dubbing internal opponent Jeb Bush as "low energy" - and even a spin on the "Trump Train."
Schulz himself has already thanked reddit users for their support, describing the page as "a massive help" to him.
"Thank you for the enthusiasm," Schulz said, adding that the thread was "engaging, creative and thoroughly enjoyable."
While the Social Democrats continue to ride their new-found popularity, political scientist and historian at the University of Cologne Siebo Janssen said that although Schulz's popularity on social media could prove to be effective in garnering support from younger voters, the SPD candidate should be careful to not ostracize traditional voters who might not be as familiar with "new media."
"Support through social media such as reddit and Twitter could prove to be a huge success for Schulz," Janssen told DW.
"But he will still need the support of older voters who he can only reach by discourse and local meetings."
'Unused' politician
On Schulz's praise of the memes, Janssen said that had Merkel engaged with social media to the same extent, it "wouldn't have been authentic."
"At the same time, however, Schulz should be wary of over-stepping the mark and appearing superficial," Janssen added.
Arriving back in Germany from Brussels "unused" and widely seen as the "every man" who worked his way to the top, Schulz is seizing this moment of popularity, Janssen told DW.
"But come September, memes alone will not win him the election."