Like many fine ideas, Taste Florence came to fruition over a few glasses of wine. About five years ago, Antoinette Mazzaglia was working for a wine tour operator, accompanying tourists to various Tuscan wineries for lunch and a tasting. Between bites and sips, however, the tourists would complain about the other meals they'd eaten and how disappointed they were with Tuscany's world-famous cuisine.
"I would almost fall over in my chair," said the 34-year-old, remembering the countless exquisite meals she'd eaten. "I would get really physically upset."
She started asking tourists where and what they were eating and quickly realized they were doing exactly what she used to do when she arrived in a new city where she didn't know the language and didn't have time to research food options: hit the closest place after a museum or sightseeing destination.
"They're starving and they get a really bad sandwich in one of those little tourist traps that have everything," explained Mazzaglia. "If a place has panini, gelato, waffles - which by the way, are not Italian! - and pizza, it's probably going to be really bad because if you have time to make all that stuff you really didn't make it yourself."
Mazzaglia wants visitors to her adopted city to swoon over Michelangelo's David sculpture, marvel at Brunelleschi's dome atop the cathedral and then relish Florence's edible art. With that in mind, on Michelangelo's birthday in 2008, Mazzaglia launched Taste Florence with a simple goal: "For visitors to not go away with a bad taste in their mouth."
She's become the Pied Piper of prosciutto, parmesan, and praline. The bilingual Mazzaglia leads tourists to markets, specialty shops and restaurants where the English-speaking guests meet the Italian food masters. Mazzaglia not only translates, but adds history and context for tourists who don't know a ceci (chickpea) from a pici (thick, long pasta).
Made in USA
Mazzaglia grew up eating Italian food in North Carolina, a US state where pulled pork meat and grits are typical fare.
"I'm 100 percent-Italian, just assembled in America," said Mazzaglia.
Her relatives from Sicily and Calabria stuffed her with spaghetti and meatballs and eggplant parmesan, recreating regional staples with what they could find in the US - which became Italian American cuisine.
As a young woman, Mazzaglia waited tables in her uncle's Italian restaurant. She knows Italian-American cuisine well and expected it when she arrived in Florence. Instead, she found herself digging into plates of white kidney-shaped beans drizzled with fresh Tuscan oil.
Antoinette Mazzaglia says this cuisine is beautiful in its austerity. Fresh, seasonal ingredients and game are often on the menu. Classic dishes include peposo (stewed meat with black pepper corns and Chianti wine) and ribollita (vegetable and bread soup).
"Just simple, fresh ingredients, whenever possible seasonal, and not a lot of flavors covering up other flavors," she said, knowing that her homeland is guilty of this culinary offense. "If I am going to use an olive, I am not going to also use sundried tomatoes and pesto and four million other ingredients. I am going to exalt the olive."
She also learned to praise truffles, porcini mushrooms and tender Florentine steaks while studying in Florence during her university years. A Tuscan captured her heart and she rushed back after completing a bachelor's degree in Italian Language and Culture at the University of North Carolina.
"Then I realized that I was in love with Florence and not with the guy from Pisa," Mazzaglia admitted.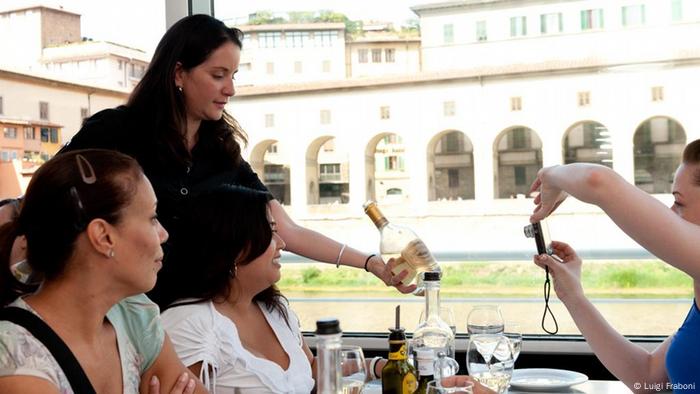 Mazzaglia encourages tourists to take photos of wines they like in order to remember the winery and year
Starting from scratch
Mazzaglia's clients are far savvier about Tuscan cuisine now than they were a decade ago. Many have learned from cooking shows that Italian cuisine varies from region to region, and city to city. But she still has to correct a lot of misinformation - like the over-use of the word "Tuscan."
Tuscan chicken, for instance, is on so-called Italian restaurant menus outside Italy. Tourist come to Florence and can't find their favorite fowl anywhere. "It's the least Tuscan meat there is," she said with a laugh.
Tuscans eat wild boar, deer, rabbit and even pigeons. "Chicken is the last resort."
Fresh and local
Mazzaglia leads a group on a four-hour culinary adventure. At the Sant'Ambrogio market, they're elbow-to-elbow with locals, sampling Tuscan sheep cheeses and sausages made from pigs' heads and gobble down stuffed zucchini.
At Vestri gelateria and chocolate shop, they crunch on almond chunks covered with chocolate and lick gelato that - legend has it - was first created for Florence's own 16th-century noblewoman Catherine de' Medici. This gelateria doesn't even have a freezer since the gelato is made fresh every day.
Next up: an olive oil tasting. Mazzaglia instructs the group to put tiny plastic cups containing oil in the palm of one hand. They're told to cover it with the other palm and twist both hands.
"What you're doing is warming up the oil to bring out the nose, the bouquet," said Mazzaglia. "It's kind of like when you let your wine breathe right before you drink it."
Even though this group is made up of serious foodies, few know about the Italian government's certification labels, which indicate the quality of a cheese, wine or oil. But Mazzaglia shows them how to avoid getting duped when ordering wine in a restaurant or buying gifts.
Cher Dikitanan of California is returning home with an unexpected souvenir: knowing how to eat like a Tuscan. Eat fresh and local; elaborate recipes and hours of preparation aren't necessary.
"People come to the market to buy seafood, meat and their produce that day," the 39-year-old said. "They'll make food until it runs out while in America, things are frozen and bought for the week."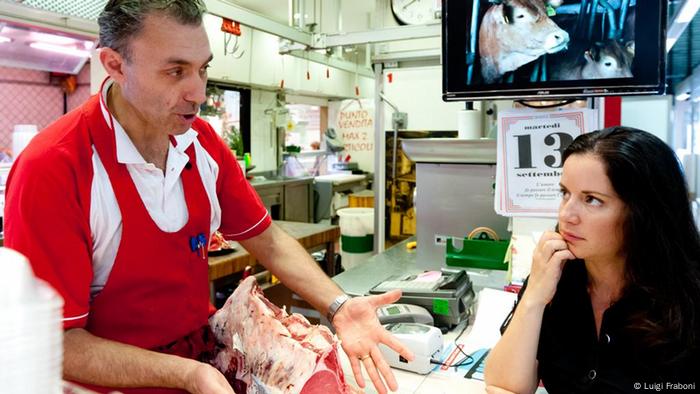 Third-generation Florentine butcher Luca Menoni explains how he selects the meats for which the city is famous
Found in translation
Tour group participant Tellina Rezzoffi admitted she was skeptical at first about Mazzaglia credentials, since she had grown up in the US.
"But I found that not only was she extremely knowledgeable, but it was really nice for her to be able to relate to the locals and for them to really embrace her. And then for her to come back to us and be able to translate," said Rezzoffi.
"Because I've grown up in a different lifestyle," elaborated Mazzaglia, "I kind of know how to balance between what people are expecting and what I expect of them."
Her advantage is that she's both an insider and an outsider in Florence. When she returns to Italy after spending time abroad, she's struck anew by the cuisine.
"It's kind of like when you leave a room when you're baking a cake, and then you come back in and you're like, 'Oh, that smells good!' she said, "I want to share that with people."
Author: Nancy Greenleese
Photos: Luigi Fraboni
Editor: Kate Bowen