Call me a mind reader, but if you, like me, use a smartphone, you've probably been complaining about how fruit flies live longer than your battery. You may even feel dizzy just trying to read these words on your phone's screen, because - for the umpteenth time - you've dropped it and now it's like looking through a kaleidoscope. Most people would probably tell you to just buy a new one. After all, it's almost cheaper than having it fixed.
For a Dutch team of entrepreneurs, this line of thinking not only hurts your wallet, it also harms the environment, and helps fuel bloody conflicts around the world. The Amsterdam-based company had a crazy idea: What if fixing your phone was as easy as 1-2-3 - and you'd help save the planet at the same time? Their answer: The Fairphone - an ethically sourced device that lasts a lifetime.
Blood phones
The project began in 2009 as a social campaign against so-called conflict minerals. The term refers to valuable raw materials, such as tantalum, tin and tungsten, which are used in electronic devices and mined in the eastern provinces of the Democratic Republic of Congo. The money is often used to finance armed conflicts in and around the region, with miners working under slave-like conditions.
But the suffering doesn't stop there. Once the minerals make it to Asian countries like China, where many of the gadgets are built, the exploitation continues, as factory workers often work inhumane hours with little money to show for it.
On a mission
The makers of the Fairphone are on a mission to change that. They offer consumers a high-end phone with user-replaceable parts, while trying to improve for their employers at the firm's factory in China wages and working conditions.
Already, their effort to promote supply-chain transparency and fairness appears to be paying off. So far, the company has sold more than 60,000 units. This may only be a fraction of the turnover of big manufacturers such as Samsung or Apple, but for CEO Bas van Abel, it's still a success: "The Fairphone is a real phone, it is a real product, it exists."
What's fair?
However, the Fairphone is not as fair as the name suggests, since a number of the suppliers don't fully abide by the company's transparency mantra. "It would kill the brand if we'd claim the Fairphone were 100 percent fair," said van Abel. "Still, we wanted to start a debate about what is fair and what is not and then leave it up to the consumers to decide if they think what we are doing is fair enough."
Thinking about a name for his product, van Abel said he set out to provoke consumers to ask themselves a simple question: "What is wrong with phones anyway?" When they do, he said, "you know you already started something."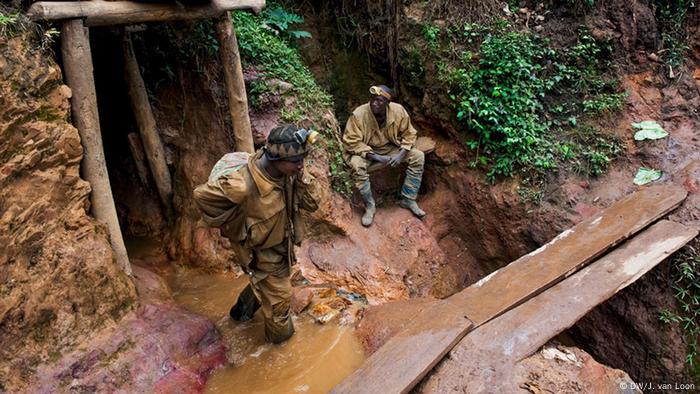 Congo is a major source of conflict minerals
Building a movement
For van Abel, the Fairphone is not the end goal, it is the beginning of a movement. Rather than just building a fair-trade brand, the company wants to change the entire smartphone eco-system. "You also have to look downstream to the consumer and how they treat these products," the CEO said. It is not enough to make manufacturers build phones that last longer, you also have to make users want their phones longer."
"What we can do as a manufacturer is to facilitate storytelling, [raise] awareness and create transparency in the supply chain by showing where the product comes from," said van Abel. "But in the end, it is the users that have to decide whether they want to repair their broken phone or simply toss it.'"


The modular construction is meant to make that decision easier. In conventional smartphones, batteries, for instance, are often glued to the hardware, and can't be replaced without ripping apart the device. With the Fairphone, changing kaput components isn't rocket science - the firm even offers help on how to do it.
"If we can make people hang on to their phones for five years instead of two, it would mean less phones are needed. And that would be a huge benefit."
Against the stream
But upstream, things don't flow as easily. Like many other manufacturers, Fairphone decided to produce in China. But old habits die hard, and changing them for the better is a long, slow process. Workers in the production plant still have 60-hour work weeks, and earn a minimum wage of 1050 Yuan (146 euros, $164) a month. Part of the company's profits support the workers through a welfare fund.
Still, every step counts: Tin and coltan are sourced from conflict-free mines, gold is resourced responsibly. The origin of each material is documented on the company's website. The firm's finances are also laid open, and production only begins when a certain amount has been pre-ordered. That way the company doesn't need to bring in large investors.
But the only way to ensure a sustainable phone stays attractive is to make sure it can keep up with consumer demands. A new version, the Fairphone 2, featuring Android's "Lollipop" operating system, a 5-inch LCD screen, a Qualcomm chipset, and 4G/LTE connectivity, launched at the end of last year. It also boasts even more customization options, thanks to its new in-house design, which was paid for by the profits made from the first Fairphone. To date, sales of the new device stand at 35,000 - most of which were ordered prior to the official release.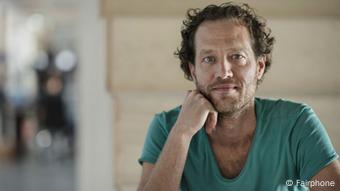 Abel: 'It would kill the brand if we'd claim the Fairphone were 100 percent fair'
Sustainable standout
In many ways, the Fairphone is an underdog - but it is already a market leader. In the coming year, the company plans to focus on growth.
"We're planning to scale the business and move towards continuous availability of the Fairphone 2, with the aim to sell 150,000 phones per year," spokesperson Daria Koreniushkina said, adding that an increased volume would make them a more interesting and influential partner for suppliers and highlight the demand for ethical products.
And that demand is gaining visibility across the market. Other well-established brands have ventured into the sustainable phone market. For instance, tech giant Samsung billed its Galaxy S4, unveiled around the same time as the Fairphone, as a certified sustainable device.
However, a recent study by the organization Good Electronics found that when it comes to sustainability, no other smartphone comes close to the Fairphone.

But it's not just the thought of a clear conscience that makes the sustainable phone enticing to competitors. Its modular construction raised a lot of eyebrows when it was first introduced. It even caught the eye of tech titan Google, which is gearing up to release its own modular phone this year.