Taliban militants have claimed responsibility for Saturday's deadly attack on the luxury Intercontinental Hotel in the Afghan capital, Kabul. The assault left 18 people dead and many others wounded.
"Fourteen foreigners were killed and four Afghans," Interior Ministry spokesman Najib Danish told Afghanistan's Tolo News. Other sources said the death toll was much higher.
Among the victims was one Kyrgyz national, one Greek, several Ukrainians and at least three others whose nationalities are still unknown, another ministry spokesman said. Local airline Kam Air said as many as 10 of its pilots and air crew, most of them foreigners, had been killed.
Read more: Afghanistan's security situation 'has deteriorated'
Authorities rescued 153 people, including more than 40 foreigners, from the building during a gun battle with the attackers that lasted more than 13 hours.
Danish told Tolo News several hours later that all four militants had been killed and that the attack was over.
Read more: The Afghan security problem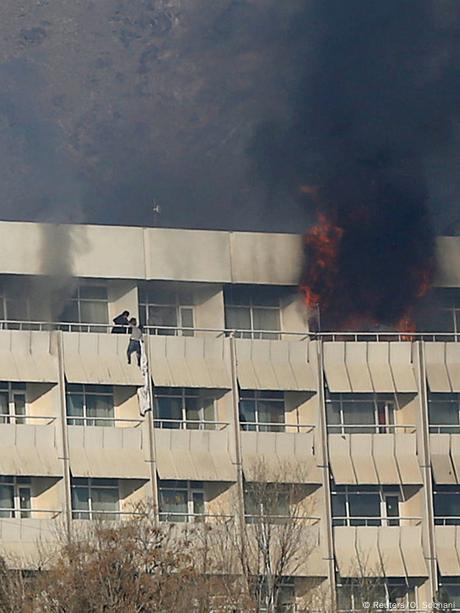 Guests trapped
Officials said the attackers blasted their way into the hotel at 9 p.m. local time (1630 UTC) and set fire to the kitchen before taking up positions on the hotel's fourth and fifth floors.
Abdul Rahman Naseri, a guest who was at the hotel for a conference, managed to escape out the window after he saw the gunmen enter the building.
"They were shouting...'Don't leave any of them alive, good or bad'. 'Shoot and kill them all,' one of them shouted," Naseri told Reuters news agency.
"I ran to my room on the second floor. I opened the window and tried to get out using a tree but the branch broke and I fell to the ground. I hurt my back and broke a leg."
The Taliban later claimed responsibility for the attack, saying five of its gunmen, armed with suicide vests, had entered the hotel.
The luxury venue, which is popular with foreigners and locals alike, was previously targeted by Taliban insurgents almost six years ago.
Read more: Hamid Karzai: 'The consequences of failure in Afghanistan will reach Germany'
Soft target
On Thursday, the US Embassy in Kabul issued a warning to US citizens, saying it was "aware of reports that extremist groups may be planning an attack against hotels in Kabul."
DW's correspondent in Kabul, Shadi Khan Saif, said that although it was not a top-level target, the Intercontinental stood on a hill and had three checkpoints; so the incursion would raise security questions.
"The Intercontinental Hotel is a soft target, it's not a secure installation, and there aren't government or foreign offices there," he said. "It was not an obvious target, but security around hotels is tight in Afghanistan. So it's really a failure that terrorists have been able to enter."
Interior Ministry spokesman Danish said authorities were investigating how the gunmen managed to get past the checkpoints.
The hotel was also targeted in June 2011, when a suicide attack claimed by the Taliban killed 21 people, including 10 civilians.
Afghan authorities increased security in the capital in the wake of a truck bombing that ripped through the diplomatic quarter in May and killed some 150 people.
Despite efforts by the country's security forces, attacks are frequent. More than 20 bombings and attacks in Kabul alone in 2017 left around 500 people dead and scores more injured.
Elsewhere in Afghanistan on Sunday, a roadside bomb killed at least 13 civilians in the western Herat province and 18 members of local militia forces in the northern province of Balkh.

mm,amp/jlw (AFP, Reuters, dpa, AP)