A suicide bomber on Thursday blew himself up near the news agency Afghan Voice Agency, killing at least 40 people and injuring many others, a spokesman for the Afghan Interior Ministry said, adding that the toll might rise.
The attack occurred at a Shiite cultural center located in the same building as the agency while a panel discussion on the 38th anniversary of the Soviet invasion of Afghanistan was being held there, the spokesman, Nasrat Rahimi, said. He said many of the victims were students who had been attending the event.
Read more:
- Germany: Suspected Taliban member arrested
- German defense minister backs longer Afghanistan mission
- Hamid Karzai: 'The consequences of failure in Afghanistan will reach Germany'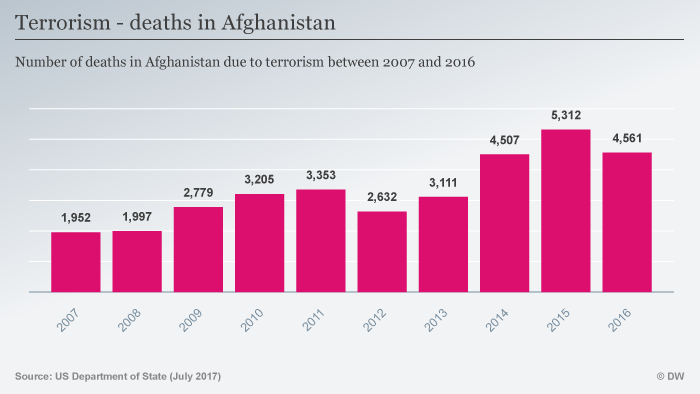 Two other smaller bombs also went off at the center, though it is not clear whether they claimed any casualties.
The Sunni extremist group "Islamic State" (IS) has claimed responsibility for the attack in an online statement posted by its propaganda outlet Amaq. The agency, however, offered no evidence for its claim.
In its statement, Amaq alleged that the center was funded by Iran and propagated Shiite beliefs.
Journalist Tahir Qadiry, who is in Kabul, said that authorities had cordoned off streets in the area the evening before as if an attack was expected. He added that the blasts came at a time when residents were starting to feel that Kabul was starting to get back to normal after a period without attacks.
The attacks come days after another suicide bomber killed six civilians near an intelligence agency compound in the city.
Worsening security
A spokesman for President Ashraf Ghani described the attack in a statement as an "unpardonable" crime against humanity and Islam.
The security situation in Kabul has deteriorated rapidly over the past few months amid increasing attacks both by the Taliban and IS, which is seeking to increase its foothold in the country.
The western area of Kabul in which the attacks took place is a predominantly Shiite neighborhood that has been the target of IS militants in the past.
tj/rt (APF, dpa, AP)