Taiwan grounded all of its F-16 fighter jets on Wednesday after one went missing during a training exercise.
The decision comes after the jet disappeared from the radar over eastern Taiwan on Tuesday.
Three weeks ago, a pilot was killed when he ejected from his F-5E fighter jet, prompting a similar grounding.
Taiwan bought the F-16 fighters from the United States in 1997 as part of the military's efforts to deter Chinese aircraft from entering its airspace.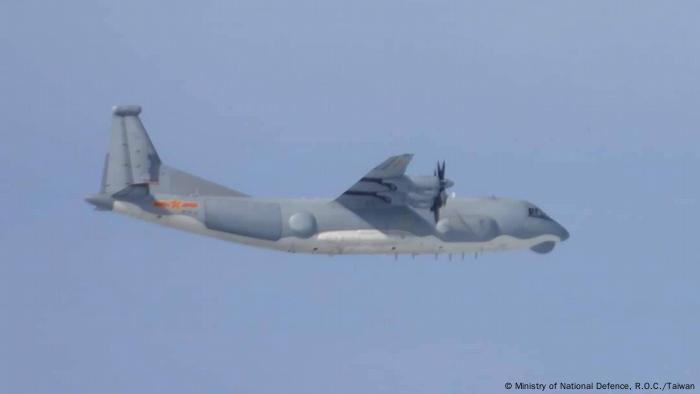 Taiwan has been publishing images of Chinese planes in its airspace of late
"The rescue mission is our top priority now. The air force has grounded all F-16s for checks and I've instructed an investigation into the cause of the incident," President Tsai Ing-wen told reporters.
Tsai said in October that Taiwan would upgrade its military hardware in response to an increasingly assertive China.
Beijing sees Taiwan as a renegade province, insisting that countries doing business with China cannot recognize Taiwan. It has not ruled out taking it back by force.
Taiwan's defense ministry Twitter account has shown every day this month how Chinese aircraft have entered what it considers the island's airspace.
China first stepped up military and economic pressure on Taiwan when Tsai was first elected in 2016.
It is partly due to her refusal to acknowledge that the island is part of Beijing's "One China" policy.
Despite not formally recognizing Taiwan, the US is bound by a 1979 law, drawn up under the Jimmy Carter administration, to support Taiwan so it can "maintain a sufficient self-defense capabilities."
Washington recently sold the island weapons and equipment worth some $18 billion (roughly €15 billion), including 66 new generation F-16s and advanced missile platforms. The sales, accelerated during Donald Trump's tenure, have angered Beijing.
Last Thursday, US Secretary of State Mike Pompeo said Taiwan "has not been a part of China."
Those comments prompted an angry response from Chinese foreign ministry spokesman Wang Wenbin, who warned Pompeo was further damaging Sino-US ties.
"We solemnly tell Pompeo and his ilk, that any behavior that undermines China's core interests and interferes with China's domestic affairs will be met with a resolute counterattack by China," Wang said, without elaborating.
jf/msh (AFP, AP, Reuters)