The Syrian foreign ministry announced on Thursday that it had discharged the country's ambassador to Iraq, after he had already defected from President Assad's regime and joined the opposition the day prior.

"The ministry of foreign affairs announces that Nawaf Fares has been discharged and has no relation with our embassy in Baghdad, or with the foreign ministry," it said in a statement.

"Yesterday Nawaf al-Fares made statements to the media that are in contradiction with his duty, which consists of defending his country's position," the ministry added.

"Because of this he needs to be legally prosecuted and subjected to disciplinary action."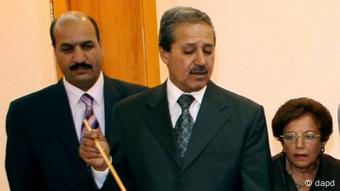 Fares called on members of the regime to defect and take up arms against Assad
In a statement broadcast on the Arabic satellite channel Al-Jazeera, on Wednesday Fares said he was resigning his post and joining the Syrian opposition.
"I'm announcing from this moment on that I'm siding with the revolution in Syria," he said.
Wearing a dark suit and reading a prepared statement, Fares called on Syrians to abandon President Bashar al-Assad.
"Where is the honor in killing your countrymen? Where is the national allegiance? The nation is all the people, not one person in particular," he said. "The allegiance is to the people, not to a dictator who kills his people."
It was not known where or when he recorded the statement, but a spokesman for the opposition group, the Syrian National Council (SNC), reported that Fares was on his way to Turkey.
"It's certain. Fares has defected. He declared his defection," said Khaled Khoja, a member of the opposition group who is based in Istanbul, "He's moving toward Turkey."
Major blow to Assad
Fares is the first senior diplomat to quit the government of President Assad since the uprising against the regime began some 16 months ago.
He is also the second prominent Syrian to break from the regime in less than a week following the high-profile flight of Brigadier General Manaf Tlass to Paris. Tlass, an Assad confidant and son of a former defense minister, has not yet spoken of his intentions.
In the United States, White House spokesman Jay Carney hailed reports of recent high-level defections as "a welcome development."
"That is an indication of the fact that support for Assad is crumbling," Carney said.
Both Tlass and Fares are members of the Sunni elite in a regime dominated by Assad's minority Alawite sect. Their defection could be a major blow to Assad who largely relies on Sunni allies to maintain control of Syria's majority Sunni population.
Russia defiant
Reports of his defection came hours after the SNC reported that there was "no change" in Russia's position on intervention or its support for President Assad.
"We have not seen a development in the Russian position. I was here one year ago and the position has not changed," Burhan Ghalioun, SNC executive committee member and its former chief told reporters following a meeting with the Russian Foreign Minister Sergey Lavrov.
Two Syrian opposition delegations were in Moscow this week, in an attempt to push Russia to accept the ouster of Assad.
But after the failed talks Ghalioun accused Russia of prolonging the bloodshed in Syria by joining China in twice blocking UN Security Council resolutions condemning the Assad regime.
"The Syrian people don't understand Russia's position. How can Russia keep supplying arms? How can they keep vetoing resolutions? There needs to be an end to mass killings," he said.
Meanwhile UN-Arab League envoy Kofi Annan urged the Security Council to send a message to the Syrian government and opposition groups that there would be serious "consequences" if they refused to comply with demands for an immediate cease-fire.
"He (Annan) called for the Security Council members to put aside their national interests and to put joint and sustained pressure on both parties with clear consequences for non-compliance," Britain's UN Ambassador Mark Lyall Grant said following Annan's closed-door briefing on Wednesday.
The council is currently debating the future of the UN's observer mission in Syria before its 90-day mandate expires on Friday. The UN initially sent 300 unarmed observers to Syria to monitor the implementation Annan's peace plan, including an April 12 ceasefire, which failed to take hold.
ccp/slk (AP, Reuters)