The UN said 750,000 people in southwestern Syria may be in danger amid a fresh wave of violence in southwestern Syria.
"Today, fighting and shelling continued to be reported in many towns on the eastern and western side of Daraa governorate," said the UN statement.
"On June 20, shelling and fighting in several areas of Daraa governorate reportedly resulted in the death of 20 people, including 11 in Daraa city; many others were injured."
Considered the birthplace of Syria's 2011 uprising, Daraa hosts thousands of internally displaced people. However, many of them have fled the area since a regime-led offensive to recapture rebel-held areas in the governorate.
"More than 12,000 civilians have fled their homes in the last three days after regime forces intensified their shelling and air strikes," said UK-based Syrian Observatory for Human Rights, which relies on a nationwide network of on-the-ground sources.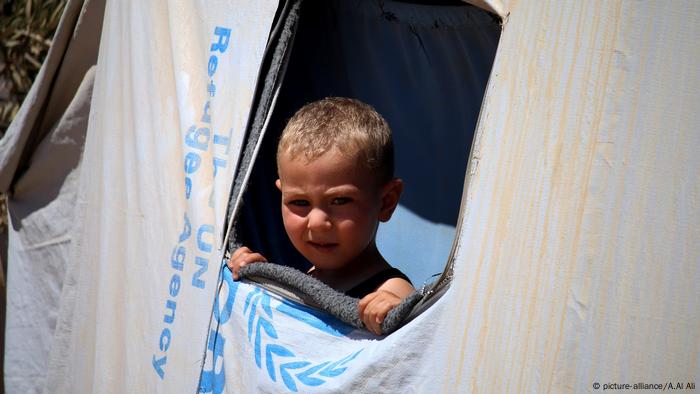 Dara'a hosts camps for internally displaced people
Tensions rising
On Tuesday, regime forces dropped leaflets in rebel-held areas of Daraa, urging civilians to help clear the area of so-called "terrorists," a word used by the government to brand rebels.
Activists in Daraa have reported Hezbollah fighters had entered the area alongside regime forces. Daraa city is located 30 kilometers from the disputed Golan Heights. Israel has warned that it will not allow the Shiite militant group to establish a presence in Syria.
In 2017, the US, Russia and Jordan agreed to include Daraa as part of a "de-escalation zone" aimed at creating safe zones for Syrians, especially internally displaced people. Last month, the US warned that it would take "firm and appropriate measures" to safeguard a ceasefire in the area.
Read more: Israel, Russia team up to keep Iran out of Syria border region
More than 300,000 people have been killed since the conflict emerged in 2011, when government forces launched a brutal crackdown on peaceful protesters calling for the release of political prisoners and President Bashar Assad to step down.
Since then, the conflict has transformed into a multi-fronted war involving global powers, neighboring countries and non-state actors, including the US, Russia and Iran.
ls/rc (AFP, Reuters, dpa)
Each evening at 1830 UTC, DW's editors send out a selection of the day's hard news and quality feature journalism. You can sign up to receive it directly here.