Thousands of anti-coup protesters in Sudan have started nationwide demonstrations against the bloody takeover of the government by the military earlier this week.
According to reports, hundreds were seen marching at the start of the protests on Saturday in the Khartoum area.
Preliminary reports of deaths have come in, with a doctor's committee saying that at least three people have been shot dead by military forces.
The civilians, who reportedly died in the city of Omdurman, had gunshot wounds to the head and abdomen, the Central Committee of Sudanese Doctors said in a statement.
The demonstrators chanted "No, no to military rule," and "We are free revolutionaries and we will continue the road."
Car tires were set ablaze in the eastern part of the capital, Khartoum, reports said, as protesters held banners saying "It's impossible to go back."
Protesters are demanding the restoration of a civilian-led government, putting the East African country back on track to democracy following decades of authoritarian rule.
"We will not be ruled by the military. That is the message we will convey" at the protests, Sudanese rights activist Tahani Abbas told the AFP news agency earlier in the day.
"The military forces are bloody and unjust, and we are anticipating what is about to happen on the streets," Abbas said. "But we are no longer afraid."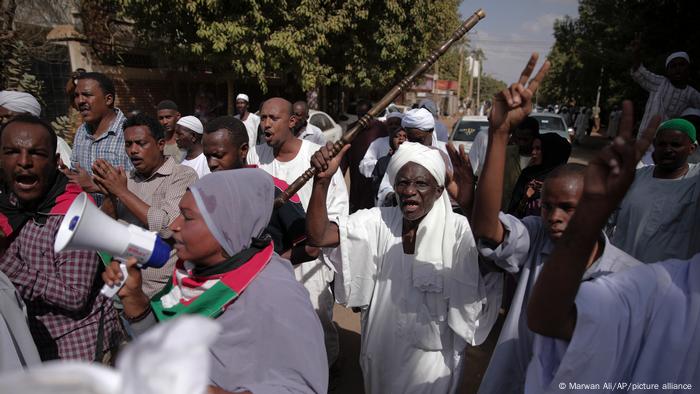 At least 11 people have been killed in clashes with security forces as protesters took to the streets to oppose the coup
Deadly crackdown follows coup
On Monday, the nation's military, led by General Abdel-Fattah Burhan, detained Sudan's civilian leadership and dissolved the government, ousting Prime Minister Abdalla Hamdok's Cabinet.
Street protests followed the coup, triggering a brutal crackdown by security forces where at least 11 protesters died and about 170 were wounded.
Rights activists fear further bloodshed in the coming days, but protesters remain defiant.
The organizers of Saturday's protest are hoping to stage a "million-strong" march against the military.
"The army should go back to its barracks and give the leadership to Hamdok," one activist said. "Our demand is a civilian country, a democratic country, nothing less than that."
International condemnation of military
The United States has called for a restoration of the civilian-led government, adding that Saturday's protests would be a "real test" of the intentions of Sudan's military.
Besides condemnation, the World Bank and the United States have also announced punitive measures such as the freezing of aid to the country already struggling under an economic crisis.
The US continues to stand with "Sudan's people in their nonviolent struggle for democracy," said Secretary of State Antony Blinken on Twitter. "Sudan's security forces must respect human rights; any violence against peaceful demonstrators is unacceptable."
On Friday, UN Secretary-General Antonio Guterres called on the military to show restraint as he reaffirmed his "strong condemnation" of the coup.
"People must be allowed to demonstrate peacefully," Guterres said.
dvv, adi/sms (AFP, Reuters)