A constitutional crisis over the past several days has thrown Sri Lanka into a state of political tumult as the Indian Ocean island nation of over 21 million people now bizarrely seems to have "two prime ministers."
On Friday, Sri Lanka's President Maithripala Sirisena decided to abruptly sack the prime minister, Ranil Wickremesinghe, and install ex-President Mahinda Rajapaksa as the new PM.
A day later, Sirisena suspended parliament until November 16 after ousted premier Wickremesinghe called for parliament to be summoned for a vote prove his majority.
Wickremesinghe insists his removal was illegal because his party still has the majority in the 225 seat parliament. The deposed PM has since refused to accept the president's decision and leave his official residence.
Read more: Sri Lanka seeks investment, but China questions linger
On Tuesday, thousands of protesters gathered near Wickremesinghe's residence to hear him speak, holding signs demanding that Sirisena preserve democracy. "He has broken his promise and taken executive power into his hands," Reuters reported Wickremesinghe as saying, referring to Sirisena. "He has sidelined parliamentary power."
Wickremesinghe's dismissal marks the culmination of a bitter power struggle between the Sri Lankan president and prime minister that has grown over the past couple of years.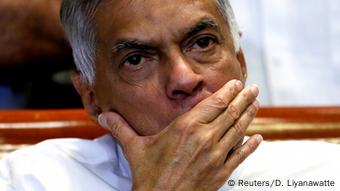 Sri Lanka's ousted Prime Minister Ranil Wickremesinghe insists he has parliamentary support
A stepping stone for regional power
It's unclear which party will come out on top when the dust settles in Sri Lanka. Given its strategic location, straddling key global shipping lanes, the country's political upheaval is being closely monitored by major regional powers like India and China.
India's foreign ministry released a statement on Sunday, saying that the Indian government is closely following recent political developments in Sri Lanka and hopes that "democratic values and constitutional process will be respected."
"India will wait and watch for a clearer situation to emerge. Barring an occasional diversion, India has always maintained that it will not interfere with the internal affairs of neighboring nations and that it will work with the people that those nations elect to political office," N Sathiya Moorthy, a Sri Lanka expert and director of the Chennai chapter of the think-tank Observer Research Foundation, told DW.
Read more: Modi seeking to counter China's clout in Indian Ocean
"In this case, the situation is different and it is all the more reason why India might be cautious in assessing the evolving situation and acting on it," he said.
China has called on all sides in Sri Lanka to resolve their differences through dialogue. The Chinese government has been one of the few to congratulate Rajapaksa, who is considered as pro-Beijing, on becoming prime minister. Beijing's envoy Cheng Xueyuan personally met with him to convey the well-wishes of Chinese Premier Li Keqiang.
Sri Lanka, some observers say, is a major geopolitical battleground for New Delhi and Beijing. India has long shared close political, cultural, economic and military ties to Sri Lanka. New Delhi has also often been involved in the internal politics of the small island nation — it sent troops there in 1987 in a failed effort to broker peace between the government and Tamil Tiger rebels.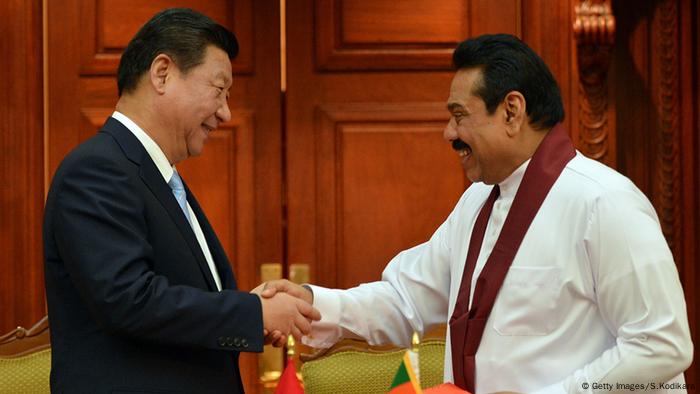 Chinese President Xi Jinping shakes hands with Sri Lanka's then president Mahinda Rajapaska in 2014
Beijing expands footprint
In recent years, however, China has increased its footprint in the country.
Beijing began to develop a close partnership with Sri Lanka when Rajapaksa was president from 2005 to 2015.
During the final years of the country's civil war — pitting the ethnic Sinhalese-dominated government against the Tamil Tigers — China provided the Sri Lankan government with military hardware and ammunition.
In the aftermath of the civil war, China also thwarted international efforts to investigate the alleged war crimes committed in the final stages of the conflict. This endeared Beijing further to the Rajapaksa administration. Furthermore, China started pumping billions of dollars into huge infrastructure projects.
Read more: Sri Lanka signs port deal for China's one-belt one-road plan
In 2007, Rajapaksa signed a $1 billion deal with a Chinese consortium to construct a new deep-water port at Hambantota, the president's home constituency. Rajapaksa's administration later offered China an exclusive investment zone near the country's main port in Colombo.
The Sri Lankan government in 2010 contracted a Chinese-led consortium to construct and operate Colombo's South Container Terminal.
And in 2013, China unveiled plans for the $1.4 billion Colombo Port City. The project began in late 2016 as part of Beijing's ambitious plan to create a modern-day "Silk Road" across Asia.
In November 2013, Chinese firms again secured a contract to build a $272 million railway line in Sri Lanka, said to be "the first new railway construction in Sri Lanka within a century."
New Delhi was deeply apprehensive about Rajapaksa's tilt toward Beijing. Indian officials were particularly alarmed in 2014 when a Chinese submarine surfaced at the Chinese-operated South Container Terminal in the Colombo port. India worried about China's growing economic and political influence over Sri Lanka and Beijing's foray into its strategic sphere of influence.
Beijing's growing involvement in Sri Lanka also fed New Delhi's longstanding concerns about Chinese encirclement.
But Rajapaksa surprisingly lost to Sirisena in the presidential elections held in 2015. Following his defeat, Rajapaksa blamed India's intelligence agency for orchestrating his election loss.
Balancing relations
During the election campaign, Sirisena pledged to reduce Sri Lanka's growing economic reliance on China. And after taking office, Sirisena appointed Wickremesinghe, who some view as pro-India, as prime minister.
Sirisena's administration also strived to be more balanced in its relationship with India and China, with greater sensitivity to New Delhi's concerns about Beijing's influence in the Indian Ocean region.
However, not all China-funded projects in Sri Lanka were financially viable and the high interest loans taken out to finance them burdened the government in Colombo with enormous fiscal strain.
Read more: Sri Lanka seeks investment, but China questions linger
The Hambantota port development project, for instance, blew a big hole in Sri Lankan government coffers. As the government struggled to make payments on the debt it had incurred, it had no other option but to renegotiate the terms of the deal with the Chinese. This finally led to Sri Lanka handing over the port and 15,000 acres of land around it for 99 years.
The agreement has stoked fears among some Indian analysts that Hambantota could one day become a Chinese naval outpost in the Indian Ocean.
Due to Sri Lanka's tough financial situation, Sirisena has also become more conciliatory toward Beijing over the past couple of years, allowing several Chinese-funded projects that he had earlier suspended.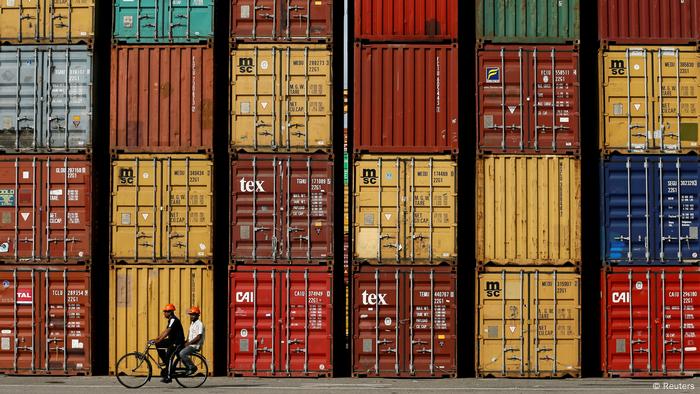 Chinese firms have invested heavily in Colombo's container port
Growing competition
Meanwhile, some strategically significant India-backed projects remain stuck. They include the plan to develop the Trincomalee harbor, the leasing and managing of the Mattala airport, which is close to the Hambantota port, and a liquefied natural gas terminal in Kerawalapitiya, among others.
"Some observers seem to view Wickremesinghe as pro-India. Although it's partly true, whether or not it produced results in New Delhi's favor is a different matter," said Moorthy.
"Wickremesinghe may have blamed Sirisena for the slow pace of India-backed projects over the past few years, but they both worked together to fast-track the debt-equity swap deal on Hambantota with China," he added.
The ousting of Wickremesinghe comes a few days after media reports claimed that Sirisena had told a cabinet meeting that New Delhi's top intelligence agency, the Research and Analysis Wing (RAW), was plotting to assassinate him.
Read more: Sri Lanka ends state of emergency as anti-Muslim violence subsides
In a phone conversation with Indian Prime Minister Narendra Modi, Sirisena promptly rejected the reports.
Recently, Sirisena and Wickremesinghe also reportedly clashed over the development of East Container Terminal in the Colombo port, with Wickremesinghe insisting that it should be developed through Indian investment, while Sirisena arguing that the Sri Lankan government should be the one to take it up.
The developments in Sri Lanka provide a snapshot of the growing geopolitical rivalry between India and China across the Indian Ocean. The two Asian giants are increasingly competing for influence in a number of countries, including Bangladesh, Nepal and the Maldives, where a pro-China leader, Abdulla Yameen, was recently voted out in a surprise election result.