The Sri Lankan president said Saturday that the security situation had sufficiently improved in the central district of Kandy, 115 kilometers (72 miles) northeast of the capital Colombo.
"Upon assessing the public safety situation, I instructed to revoke the State of Emergency from midnight yesterday," Maithripala Sirisena wrote on Twitter.
Sirisena declared a state of emergency on March 6 to quell anti-Muslim violence, in which three people were killed and hundreds of shops were vandalized.
It was the first time the country declared a state of emergency since the end of decades-long Tamil separatist war in 2009.
Communal violence broke out in Kandy after a Sinhalese man, who had been attacked by a Muslim mob, died in hospital.
In response, rioters attacked several Muslim homes, shops and mosques in the area.
After police were unable to rein in the spread of violence, President Sirisena declared a state of emergency, giving security forces sweeping powers to arrest suspects.
Over 300 people have been taken into custody since the March 6 riots.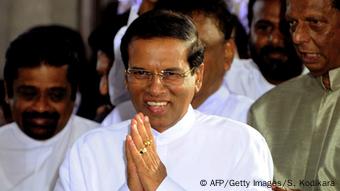 'The Sri Lankan government [President Sirisena pictured] has done very little to address mistrust between Buddhists and Muslims,' says ICG analyst Alan Keenan
Rising anti-Muslim sentiment
In the past few years, communal tensions have flared in Sri Lanka, a majority Buddhist country. Some 75 percent of the country's 21 million strong population are Sinhalese Buddhists, whereas around 10 percent are Muslim.
Hardline Buddhist groups accuse Muslims of attacking their religious sites and forcing Sinhalese people to convert to Islam.
The influx of Rohingya Muslim refugees from neighboring Myanmar has also added to the Buddhist resentment of Muslims in Sri Lanka.
"Criticisms of Muslims as gaining greater economic power through unfair means have particular resonance with Sinhalese facing economic difficulties, as the government struggles to control the cost of living and provide sustainable livelihoods, especially in rural areas and small towns," Alan Keenan, Sri Lanka analyst at the International Crisis Group, told DW.
While the South Asian country's parliament issued an apology to Muslims after the riots, Keenan believes Colombo has "done very little to address either the underlying mistrust or misunderstandings between the two communities, or to rein in the small number of Buddhists who promote or use violence."
"While the state of emergency appears to have helped reduce the violence, attacks have continued," Keenan continued. "The government needs to adopt a three-pronged strategy, beginning with enforcing the law, including against hate speech, and arresting and prosecuting offenders."