Sri Lanka declared a country-wide state of emergency on Tuesday to suppress communal violence between Muslims and ethnic Sinhalese.
The announcement comes amid growing ethnic tension between Muslims and the primarily Buddhist majority Sinhalese on the Indian Ocean island.
Read more: Largest Muslim party leaves Sri Lankan government
What happened:
Anti-Muslim riots broke out in the central district of Kandy on the weekend after a Sinhalese man who said he had been attacked by a muslim mob died in a local hospital.
Rioters damaged several muslim homes, shops and mosques.
In response, the government instituted a curfew in the district and deployed hundreds of heavily-armed police to stop the rioting.
Police have arrested several people and had extended the curfew after the body of a muslim man was removed from a burnt building.
Read more: Sri Lanka's 'worst communal violence in years'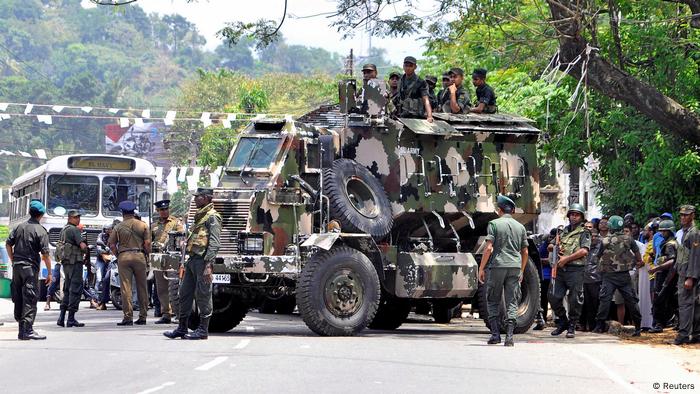 Elite police have been trying to quell the violence in Kandy
Who said what:
Minister of City Planning Rauff Hakeem said: "The cabinet of ministers decided on tough measures, including a 10-day nationwide state of emergency."
The government called on the local population "to act with responsibility and remain calm."
Read more: Religious tension rises in Sri Lanka amid mosque attacks
Muslim-Buddhist fallout: Some 75 percent of Sri Lanka's 21 million residents are Sinhalese, while around 10 percent are Muslim. Communal tensions have flared up during the past year after hardline Buddhist groups accused Muslims of attacking Buddhist religious sites and forcing Sinhalese to convert to Islam. One man was killed and dozens of buildings and vehicles damaged during clashes in the south of the country in November. Some Buddhists have also protested against Rohingya Muslims who have been seeking asylum after fleeing a government crackdown in their native Myanmar.
amp/rt (AP, AFP, Reuters)
Every evening at 1830 UTC, DW's editors send out a selection of the day's hard news and quality feature journalism. You can sign up to receive it directly here.