European Union foreign ministers on Monday asked the bloc's top diplomat to draw up a list of sanctions to be imposed on senior Myanmar military officers over "serious and systematic human rights violations" in the country.
The measures would be the toughest sanctions to be imposed on Myanmar by Brussels as it tries to hold the military accountable for a brutal crackdown on Rohingya Muslims in Rakhine state. The violence has caused 700,000 people to flee their homes since August.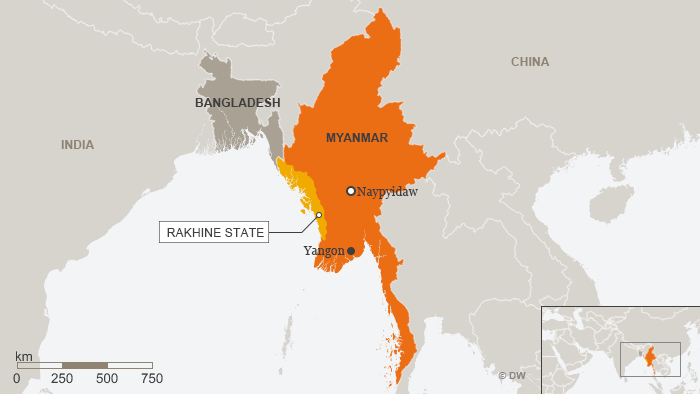 Following a meeting in Brussels, the ministers said they tasked foreign policy chief Federica Mogherini with proposing "targeted restrictive measures" against senior military officers. They'd also asked her to draw up an extension of an arms embargo that was initiated in the 1990s but was due to expire at the end of April.
The sanctions would include EU travel bans and asset freezes.
Read more: Myanmar's Rohingya: A history of forced exoduses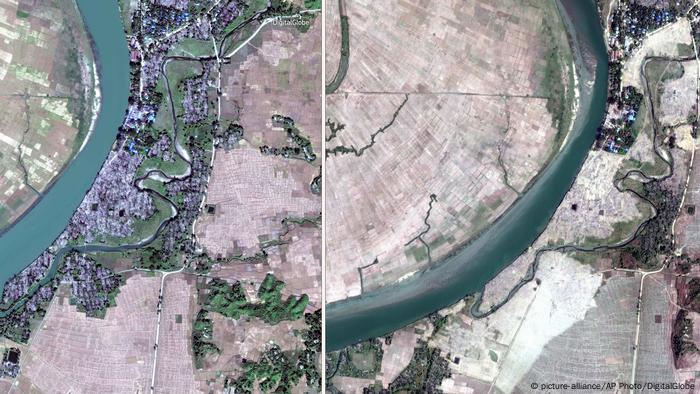 Satellite images like these show that villages in Rakhine have been destroyed (L. before, R. after)
Accusations of ethnic cleansing
Except for the arms embargo, the bloc suspended all restrictive measures in place against Myanmar in 2012 as a gesture of support for the country's transition from military rule to democracy in recent years.
However, the EU has been one of the most vocal critics of the crackdown in Rakhine state, which both the United States and the United Nations have described as "ethnic cleansing."
The move to prepare sanctions reflects reluctance in the UN Security Council to impose measures of its own on Myanmar, with veto-wielding powers Russia and China saying this month that they believed the situation in Rakhine was under control.
Global rights icon Suu Kyi under fire
De facto Myanmar leader Aung San Suu Kyi, a Nobel peace laureate, has meanwhile come under renewed pressure to do more to stop the crackdown. Three fellow laureates urged her on Monday to speak out against the violence or risk prosecution for "genocide."
The three — Tawakkol Karman, Shirin Ebadi and Mairead Maguire —, who visited camps housing Rohingya refugees in Bangladesh, called on Suu Kyi to "wake up" to the atrocities.
"This is clearly, clearly, clearly genocide that is going on by the Burmese government and military against the Rohingya people," Maguire said.
Myanmar denies most of the allegations leveled at it by the international community over the crackdown, asking for more evidence. At the same time, however, it will not grant independent journalists, human rights monitors or UN-appointed investigators access to the conflict zone.
Each evening at 1830 UTC, DW's editors send out a selection of the day's hard news and quality feature journalism. You can sign up to receive it directly here.
tj/rs (AFP, Reuters, AP)