South Korean President Moon Jae-in arrived in Pyongyang for his third summit with North Korean leader Kim Jong Un on Tuesday, with denuclearization and ending the Korean War high on the docket.
The two leaders exchanged smiles and a warm embrace at the start of the summit, in the first visit by a South Korean leader to Pyongyang in 11 years.
Moon is also traveling with a contingent of South Korean business executives, including Samsung Electronics Vice Chairman Lee Jae-yong, as part of an effort to boost cross-border business projects. Those projects are currently on hold due to US sanctions.
At the start of their formal talks on Tuesday, Kim thanked Moon for brokering the "historic" meeting with US President Donald Trump in Singapore, saying the talks helped stabilize the region.
"Thanks to that, the political situation in the region has stabilized and I expect more advanced results," Kim told Moon, according to South Korean press pool reports.
A second round of official talks will also take place on Wednesday, after which they are expected to release a joint statement as well as a military pact to prevent armed clashes. Moon will head back to South Korea early Thursday morning.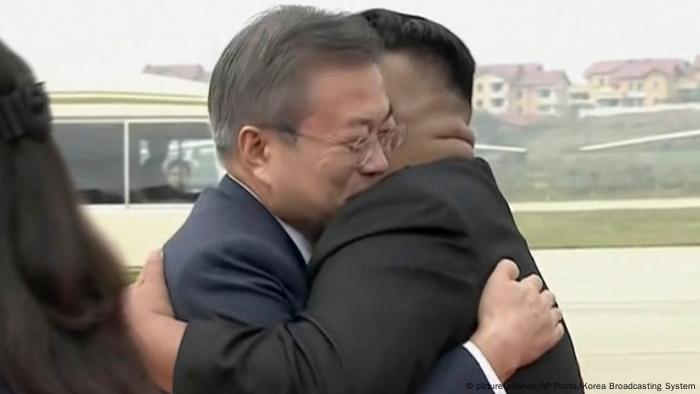 Kim and Moon exchanged hugs at the airport in Pyongyang
Questions over denuclearization commitment
Prior to his departure, the South Korean leader said he would push Kim for "irreversible, permanent peace" and better communication between Pyongyang and Washington.
"This summit would be very meaningful if it yielded a resumption of North Korea-U.S. talks," Moon said. "It's very important for South and North Korea to meet frequently, and we are turning to a phase where we can meet anytime we want."
Moon is under pressure from Washington to push for progress in dismantling Pyongyang's nuclear program.
Trump's administration has said it wants Pyongyang to take concrete steps towards denuclearization before they will agree to declaring an end to the 1950-1953 Korean War — one of Kim's key goals.
Denuclearization talks have stalled since Trump and Kim met in Singapore in June. During their summit, the two generally agreed to the denuclearization of the Korean Peninsula, but did not set out a concrete plan.
Although North Korea has dismantled its nuclear and rocket-engine testing sites, a UN report said there has been little to no evidence that Pyongyang has scaled back its nuclear program.
Kim has since suggested a second summit with Trump, with the White House saying they are working on setting a date.
rs/rg (AP, AFP)