A black community of around 40 families recently staged a protest in Upper Inanda, north of Durban. They've lived on land owned by a farming company for decades, while working on the surrounding farms and in the city. But they don't have any documents to prevent them from being evicted.
"I must be given the papers to allow me to do everything that I want to do on the property that I'm in," said 23-year-old Lisa Mbele, one of the protestors. "You can't do anything if you don't have the papers."
Land ownership is a contentious issue in South Africa. With the end of apartheid in 1994, the African National Congress (ANC) party promised to right the wrongs of the past by shifting land from white farmers back to the black population who lost most of South Africa's fertile land under colonial rule.
But the government is still far from reaching its initial target of redistributing one third of the land by 1999. "We haven't given it enough time," said Professor Nick Vink, chairman of the Agricultural Economics Department at Stellenbosch University. "It's something that's going to be with the country for the next two or three generations."
Time is of the essence
People are becoming impatient. The Economic Freedom Fighters (EFF) are a radical left-wing political party, which is tapping into the frustration among young and poor black voters. Their leader Julius Malema, who calls himself their "commander-in-chief," repeatedly called on his supporters to occupy vacant land. This has sparked fears of violent land grabs like those in neighboring Zimbabwe in 2000, which plunged the country into chaos.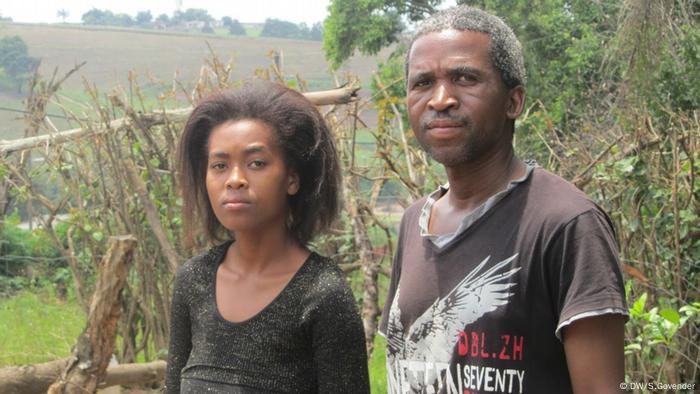 Lisa Mbele and her neighbor Thulisa Khuzwayo are fighting for land ownership
"Aggression is not what anybody wants," said Brett Williams, a white farmer whose family has been growing sugar cane, bananas and vegetables in Upper Inanda for 100 years. When the recent protests erupted, he went to help his neighbor and saw road blocks and burning tires. "We just hope we can resolve this in a peaceful manner," he said.
How to make it work?
The current approach to land reform has come under fire and the South African government seems to be changing its tune. Back in May, Parliament passed a bill which allows the government to force white farm owners to sell their land in the public interest so it can then give it back to black farmers.
President Jacob Zuma still needs to sign the law but it is unclear whether he actually will. By the government's own account, 90 percent of the farmland that has been redistributed is not productive anymore, meaning that land reform has not been commercially viable.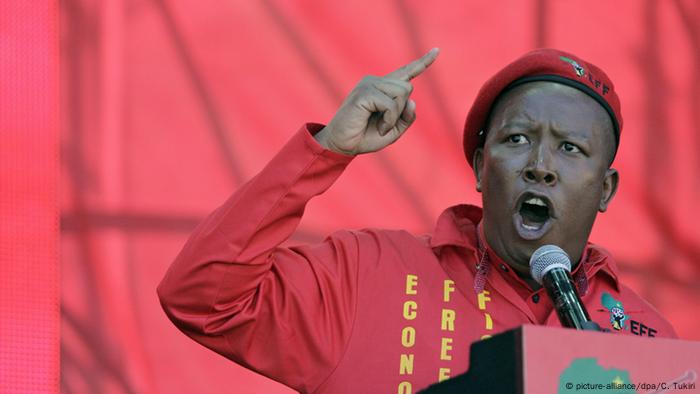 Julius Malema and his EFF are pushing to speed up land reform
The farmers' union AgriSA, while generally in favor of land reform, wants to ensure that the available farmland is used productively. Its Legal and Policy Advisor Annelize Crosby was part of a project which worked to predict various future scenarios. "Unless we get this right, we're likely to have unrest, food insecurity, basically chaos," she said.
That is what all parties want to avoid. They want to put right the blatant injustices that happened in the past and finally move forward as one nation. Land reform was supposed to become a symbol of that but instead it seems to have become a symbol of how deep racial divisions still run in the country. Twenty two years after the end of apartheid, many South Africans, like Lisa Mbele, are still waiting for the justice they were promised.