From the outset, Christian missionaries have found China a tough nut to crack. In a letter to his fellow Jesuits back in Italy in 1601, Nicolo Longobardo wrote that there was "unity and harmony" in the kingdom and that everyone, both great and small, subjected him or herself to the same king and monarch, i.e. to the emperor. The missionaries thought that by winning over the emperor to Christianity, they would convert millions in one fell swoop. Jesuits tried again and again to woo the court and always failed. As heaven's representative on earth, the Chinese emperor could hardly accept another, especially not one so far away surrounded by barbarians.
As confident as China's emperor
Little has changed, really. Chinese President Xi Jinping is just as confident as the erstwhile emperors, and now powerful enough to put the Catholic Church and the Vatican in their place.
Read more: In Xi we trust — Is China cracking down on Christianity?
China's Communist Party drew the lines in 1949, after taking power. It insisted that anyone who wanted to remain Catholic had to split from Rome and the papacy. The Chinese state only recognizes the Patriotic Catholic Association, which was established by the Communist authorities in 1957. Meanwhile, the underground church which remained loyal to the Vatican was forced to hold mass in private. It functions in a legal gray zone, being more or less tolerated by the state depending on the political situation.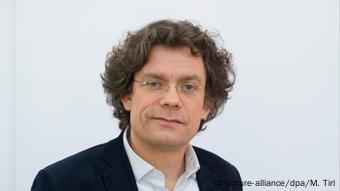 DW's Frank Sieren
Officially, there is religious freedom in China. However, a new law that entered into effect this year extends state control over unofficial religious communities too. The "house churches" will probably also lose some room to maneuver.
There are an estimated 10 to 15 million Catholics in China. That's not many for a population of 1.3 billion. So there is plenty of potential for missionaries — something that has not changed too much since the 17th century. Just as the missionaries tried back then, Pope Francis, who is very much involved in geopolitics, is trying to wield influence at the very top: He is doing his best to cozy up to Beijing. This is a controversial approach that has triggered a debate among Catholics and others. To get a foot in the Chinese door, Francis recently agreed to recognize seven government-appointed bishops, although for decades the Holy See had only contempt for the Patriotic Catholic Association and its defiance of Rome.
Could a member of the People's Congress earn Rome's grace?
And that's not all! The Vatican is apparently prepared to ask loyal bishops appointed by Rome to retire because the authorities in Beijing do not like them. Bishop Joseph Huang Bingzhang who was consecrated without papal approval and excommunicated, could replace the 86-year-old Peter Zhuang Jianjian from Shantou, who was consecrated secretly with the approval of the Vatican in 2006.
Huang is not only a servitor of god but also a member of the National People's Congress.
This almost blasphemous development will surely have an impact on the faith of many clandestine Catholics in China.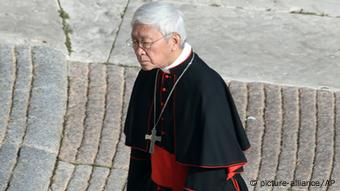 Retired Cardinal Joseph Zen Ze-kiun has expressed disappointment with Vatican attempts to cozy up to China
Retired Hong Kong Cardinal Joseph Zen Ze-kiun, 86, has already expressed his disappointment. He has been a tireless advocate for the rights of China's underground Catholics.
"Do I think that the Vatican is selling out the Catholic Church in China? Yes, definitely, if they go in the direction which is obvious from all what they are doing in recent years and months," he said in a statement on Facebook.
Beijing and the Vatican are currently working behind closed doors on a fresh state church agreement that could sweep in a new era of relations between the two, starting in the spring. There have never been diplomatic relations between Beijing and the Vatican because of the contentious issue of nominating bishops, but also because the Vatican is one of the last states to recognize Taiwan's sovereignty. Pope Francis has already signaled that he is prepared to sacrifice relations with Taiwan, however.
The church also has to secure its market
None of this is unfamiliar from the world of business. The stronger China's influence becomes, the more Beijing can force its negotiating partners into compromising. The Vatican has said that overcoming the divisions will mean more freedom and security for Chinese Catholics, but surely it hopes to gain freedom on the Chinese market. Francis is behaving like the boss of a big corporation. The number of Catholics around the world is decreasing, especially in Europe, so new markets are necessary. This has worked in Africa and South America so far.
The Catholic Church needs China. So it has to play by Chinese rules. And just like every foreign company in China has to enter into a joint venture with a local company, the Vatican seems willing to accept that in China it's the Communist Party that sets the rules, not god.
DW's Frank Sieren has lived in Beijing for over 20 years.