Cars in China have to make statements. The population especially likes SUVs, even in the cities. And the limos should be longer than in the West so that the owners can spread out in back. Nothing much has changed in that respect, if the Beijing Auto Show is anything to go by. Until May 4, all the global manufacturers will be wooing customers on the fastest growing market in the world.
Otherwise, almost everything is new and unusual. Despite the slump of last year, the market is growing again, but at a rate of only 6 percent. The government's halving of taxes for the purchase of a small car is now paying off. It might be not as much as hoped for, but 6 percent growth in China means 5.5 million cars sold - that's a great deal compared to the 4 million in Europe and the US as well. The probability that the growth rate will remain steady is high. Considering there are still only 70 cars per 1,000 inhabitants in China, there can be no fear of a saturated market. In the US, there are 700 cars per 1,000 inhabitants.
Risk: Dependence on the Chinese market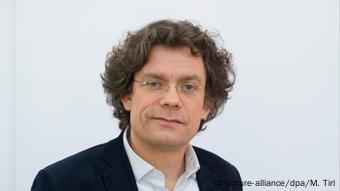 DW's Frank Sieren
Till now China has been a goldmine for foreign carmakers, especially German ones that aim to have 20 percent of the market here. Last year, of the 10 million cars that Volkswagen sold, four million were in China. And Mercedes, which is still trying to catch up BMW and Audi, is also growing at 30 percent. This is good news, but it comes with dependencies. The bigger the dependency, the riskier the forecast for the companies.
Toyota does not know whether its target of two million sold by 2025 can be reached. Four years ago, Ford planned to double production in China by 2015. Now, there is no talk about further expansion. Last year, Volkswagen announced investments of 22 billion euros in China by 2020 to increase production in China by 40 percent to five million cars a year. At the auto show, Jochen Heizmann, President and CEO of Volkswagen Group China, lowered the forecast somewhat. Now the goal is an investment of four billion euros in local partner companies. The other plans have been postponed.
More and more hybrid and electric cars
But after the diesel emissions scandal in the US, China is the only market that is allowing VW CEO Matthias Müller to breathe a bit. Here the chance and dependency are closely connected. Never was the company in the hands of Chinese politics to this extent. And it's also in the clutches of US politics. There's nothing yet to indicate that Beijing will use this power, but it could do so at any time. Müller did not come to Beijing this week.
After years of trying to catch up, the Chinese car sector now has to slow down a bit. The market is changing. There have never been so many hybrid and electric vehicles as this year. While the trend was forecast last year, it's now become a reality. The boom is being forced. Many car buyers in China's big cities don't have a choice but to buy a hybrid or a pure e-car if they want a new car fast. Last year, China took over the US as the most important market for hybrid and electric cars. The sales quadrupled to some 180,000 vehicles.
German companies are moving in
Until 2017 buyers of e-cars will be able to enjoy state subsidies of up to 120,000 yuan (17,000 euros). The government's goal is to have five million e-cars on the roads by 2020. German manufacturers are jumping on the bandwagon before it is too late. Volkswagen plans to put 15 locally-produced hybrid and e-cars on the market in the coming years. The political pressure is tangible for foreign manufacturers too.
Foreign manufacturers, especially German ones, still have the best reputation among Chinese buyers, but Chinese manufacturers are catching up fast. They hope to establish themselves as credible competitors on the e-car market. One Chinese e-car start-up - Future Mobility - recently hit the headlines when it poached four top engineers from BMW, including Carsten Breitfeld, a head developer in the e-car department. Why go to such effort to copy as used to be done when you can just buy in the specialists?
Frank Sieren has lived in Beijing for over 20 years.