Bayern Munich's domestic dominance is such that Bundesliga wins, even 5-2 comeback wins, don't beg many questions about the present. So those who follow their fortunes must look to the future - European games, the next star name arriving through the door or the latest name in the coaching frame.
Saturday's visit of Hoffenheim looked like it would be dominated by the last of those narratives but Julian Nagelsmann, once the favorite to replace Carlo Ancelotti, now seems to be an outsider to replace Jupp Heynckes, due mainly to his lack of experience.
So what was the story in Munich this afternoon? A rampant Bayern comeback? Sandro Wagner's first goal for his new, old club? In fact, it was a young Bayern winger who dominated the game's early stages. A Bayern winger wearing blue, And playing up front.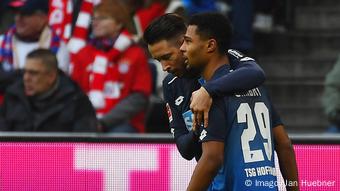 Serge Gnabry celebrates with Mark Uth
Super Serge
Serge Gnabry, who the champions loaned to Hoffenheim after signing him from Werder Bremen in pre-season, burst in to the area two minutes in to the game, drawing a foul from Joshua Kimmich before dusting himself off to take the resulting spot kick. Sven Ulreich denied the 22-year-old before Mark Uth tucked in the rebound.
Nine minutes later, undeterred by his miss, Gnabry was first to a loose ball at the edge of his employer's box. He assessed the options and skimmed a powerful first-time drive past Ulreich. His celebrations were muted, but Nagelsmann's weren't.
Even after such a blistering 12 minute opening spell, the young coach was restless. As Gnabry once again found a pocket of space on the edge of his parent club's box, Nagelsmann was up and out of his dugout, waving his arms in frustration at his winger's decision to pass and not test the keeper.
In contrast to the man 42 years his senior standing 20 yards to his right, Nagelsmann was a whirr of activity, constantly springing out to his technical area to issue instructions, words of encouragement or just to demonstrate his displeasure.
But, as much as Gnabry offered Nagelsmann some moments of frustration, the Hoffenheim boss knows he has a real talent on his hands, as does Heynckes, though his praise also came with a characteristic note of warning.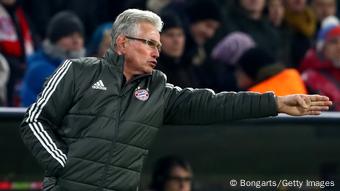 High praise: Jupp Heynckes is impressed with Gnabry
Heynckes' high praise
"You have to bear in mind that he's a player who has had to cope with a lot of injuries already in his young career with many absences," the Bayern coach said after the match, drawing on his immense experience. "He has great talent. But he's a young player who has to absorb life as a professional, working, training and playing at a high level. There's still scope for improvement."
Starting in a somewhat unfamiliar role alongside Uth but with a license – and the intelligence - to roam, Gnabry was a menace throughout. As well as his contributions to Hoffenheim's early lead, he consistently found space between Bayern's center backs and full backs in the first half.
Perhaps more surprisingly, he demonstrated a new-found maturity. As Hoffenheim started to cede control, Gnabry used his pace and dribbling ability to hold up the ball and relieve the ever-growing pressure on his teammates, rather than to showboat.
He also recorded Hoffenheim's highest pass success rate (92 per cent) despite his advanced position and recorded the second most tackles in the game (3) - more signs of a player starting to add strings to his bow, just as Heynckes desires.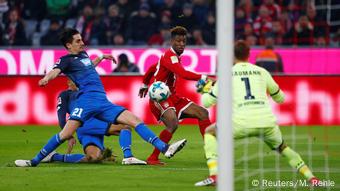 French future: Kingsley Coman was on target for Bayern
Kingsley Coman
While the rumor mill has it that Nagelsmann's youth will prevent him prowling the home technical area next season, Gnabry looks to have a place at the Allianz Arena despite his own tender years. With the futures of Arjen Robben and Franck Ribery still not decided, Gnabry and Kingsley Coman are the frontrunners to replace the grand old pair.
While Gnabry was forced to feed off scraps after a frantic first half hour, it was Coman – who had had plenty more to get his teeth in to - who swung the game decisively Bayern's way. Just after the hour mark, he curled in from the left side of the box to seal the turnaround before Arturo Vidal looped in a header and Wagner bundled in from close range.
By that stage, Gnabry and Uth looked as frustrated as their boss. Nagelsmann knows neither of his goalscorers will be at Hoffenheim next season and needed only to glance at look at Sebastian Rudy and Niklas Süle to find further evidence of the limitations of his current club.
After his European struggles and a noble but unarguably deserved defeat, Nagelsmann may have to wait to compete at the top table, whether in Munich or elsewhere. Gnabry will have to wait a little while too, but he looks at home already.