A second wave of massive flooding hit southern Poland on Sunday, following weeks of heavy rain.

About 3,000 people were evacuated from eight villages after the Vistula River broke through crumbling dikes near Szczucin and Sandomierz. Rescue workers and firefighters were working to strengthen dikes recently repaired after flooding first hit the area in May.

Prime Minister Donald Tusk on Saturday described the situation in the south of the country as "dangerous." Last month, at least 22 people died as the country experienced its worst flooding in decades.

On Saturday, the Vistula opened a 20-meter (22 yard) wide hole in flood defenses protecting the village of Slupiec. Amphibious army vessels were used to help rescue some 3,000 people as well as animals from the endangered area.

Further north, in the region where some 20 villages were flooded last month, water was also reported to be breaching flood defenses. At least three people have died in the latest round of flooding, while an additional two have been reported missing.

Many other parts of the country are also bracing for floods after rainstorms in recent days, as meteorologists warn of more rain in the forecast.

'Worst floods in a century'

Poland suffered its worst flooding in decades last month

The flooding has also threatened parts of Slovakia, though floodwaters began to gradually recede on Sunday, allowing emergency teams to began clearance work in many parts of the country.

Rising waters forced the evacuation of 1,500 people in Slovakia's second largest city of Kosice on Saturday amid fears the swollen Hornad River would overflow and flood surrounding areas.

Prime Minister Robert Fico held a government meeting on Saturday to discuss the floods, which he said were the worst in a century.

The eastern and southern parts of the country have been worst hit. So far, only three deaths have been reported in Slovakia.

"We are lucky that Slovakia does not have to cope with a larger number of flood victims," Fico told reporters.

Bridges and railway lines in the country have been severely damaged, Fico said, and more than 3,000 soldiers had been drafted into the affected areas to support civilian emergency services.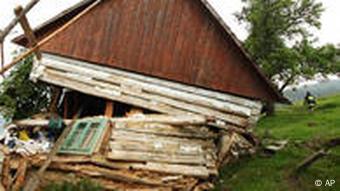 Many have been left homeless
Situation 'critical' in Hungary

In northeast Hungary, more than 2,300 people were evacuated on Saturday, according to the country's Interior Ministry. The communities of Borsod and Szabolcs were hit particularly hard.

The flood situation remains critical after more than a month of near-continuous rainfall. In the capital Budapest, docks on the swollen Danube River were shut and the banks of the river and Margaret Island, a major park and tourist destination, were protected by sand bags.

In the eastern German state of Brandenburg, experts on Saturday were predicting high water levels on the Oder River for several days to come.

Authors: Richard Connor, Martin Kuebler (dpa/AP/Reuters)
Editor: Nigel Tandy