Heavy rains have triggered floods across central Europe, killing at least two people in the Czech Republic and forcing thousands from their homes in Slovakia and Hungary.
Flooding in the past month in nearby Poland has caused hundreds of millions of euros in damage and killed 18 people.
Officials called a state of emergency Wednesday in the southeast of the Czech Republic. One man died when his car crashed after aquaplaning on a flooded street and a second body was found near a creek. Czech police were investigating whether the death was flood-related.
In Slovakia, police are investigating the death of a 38-year-old man and searching for another man who fell into a river. Hundreds of people have been evacuated from their homes.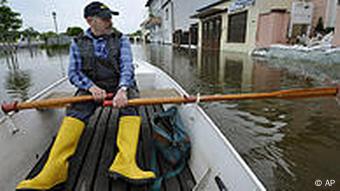 Flooding of the river Oder hit the German-Polish border in late May
Flash floods hit neighboring Hungary, causing the evactuation of around 2,000 people in the northern town of Paszto. Railway services in the northeast have been suspended. In addition, over 700 soldiers from the Hungarian army have been mobilised to help build flood defenses.
Croatia has declared a state of emergency and sent hundreds of fire officers and military personnel to fight the floods. In the eastern part of the country, hundreds have been evacuated due to rising river levels.
Landslide warning
Officials in the Czech Republic said rising water levels around dams were also becoming a landslide threat.
"There is a real threat of overflowing of unregulated streams, reservoirs and the threat of landslides on people's dwellings," a spokesman in the region of Zlin, bordering Slovakia, said on the region's website.
There are concerns in nearby Serbia and Bosnia the floods could soon affect them. Officials in Serbia have described the situation as "critical" and rescuers in Bosnia are using boats to help residents.
cb/AP/Reuters/dpa
Editor: Rob Turner