Merkel along with Brandenburg's state premier Matthias Platzeck paid a visit to Frankfurt (Oder) near the Polish border on Saturday to show her support for rescue workers trying to contain the worst floods in the region since 1997.
Merkel praised the team effort between Polish and German authorities and rescue workers.
"We are seeing very close cooperation here," she said during an inspection of the Oder river, which burst its banks in Poland two weeks ago and reached Germany last Thursday. The Oder was closed to shipping for a fourth consecutive day on Saturday.
Merkel also praised the effiency of the rescue effort "I get the impression that everybody is working flat out, there is a very well-coordinated structure in place," she said.
Lessons learnt
Merkel was referring to measures taken after the last major floods in the region in 1997. Since then, Germany has invested 220 million euros to improve dikes, flood defenses and crisis management.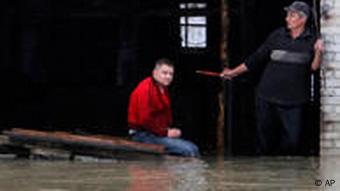 Poland has seen the worst flooding in its history
Water levels have fallen in Frankfurt (Oder) and other areas of Brandenburg after reaching peak levels on Friday. The state remains on high alert as the water level is not expected to recede for several days.
But Merkel warned of complacency. "The danger has not yet passed," she said.

Poland worst-hit
Poland has seen the worst of the flooding in the last two weeks, claiming the lives of at least 21 people and forcing thousands of Poles from their homes. The damage is estimated at 2 billion euros or more.
Poland has earmarked 400,000 euros for the flood victims and has asked the European Union for help.
The floods have also affected Hungary, the Czech Republic and Slovakia.
ng/dpa/Reuters/AFP
Editor: Sonia Phalnikar