Mainz 05, coming off of two victories, seemed firmly on course for another win early on as they hosted Schalke 04 on Sunday, but things turned out differently.
Goals by Austrian Andreas Ivanschitz and Colombian Elkin Soto put Mainz 2-0 ahead after only 12 minutes, and Schalke looked dreadful. But in the second half, everything was different.
Schalke scored four times in the game's final 35 minutes. Goals by Klaas-Jan Huntelaar, Benedikt Hoewedes, Joel Matip and Christian Fuchs gave Schalke a solid win.
In Sunday's other game, Hanover 96 missed their chance to go clear at the top of the Bundesliga after conceding a late goal in a 1-1 draw at home to Hertha Berlin Sunday.
Midfielder Sergio Pinto put Hanover ahead in the 33rd minute when his low-struck free-kick rolled past Hertha's poorly constructed wall - and inside the post. But substitute Pierre-Michel Lasogga equalized for Hertha seven minutes from time when he steered in a low cross from Christian Lell.
The game had a controversial end when Hanover had a goal disallowed after a free-kick from Christian Pander sailed into the net. Television pictures showed no offside but the linesman had his flag up.
Deja-vu
It was a case of deja-vu for Hamburg as they watched Bayern Munich score a total of five goals on Saturday. The Northerners lost 5-0 to Bayern, reminiscent of last season's 6-0 bashing at the hands of Bayern Munich, who now sit in third in the Bundesliga standings.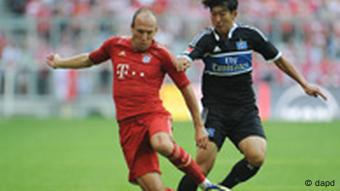 Bayern's Arjen Robben (left) and Hamburg's Son Heung-Min challenge for the ball
"This is a defeat that really hurts," Hamburg manager Michael Oenning said after the match. "We couldn't even get the simplest things right during the match, it was horrendous."
Last season's champions Dortmund bounced back after last week's defeat to Hoffenheim with a 2-0 win over Nuremberg, who haven't won at Dortmund since 1990. After an uninspired performance in the first half, Robert Lewandowski finally scored in the 50th minute, followed by winger Kevin Grosskreutz in the 80th minute.
"This match showed that Bundesliga football is hard work," a visibly relieved Jürgen Klopp, Dortmund's coach, said after the match. "In the end we deserved to win, we weren't just lucky," he said.
Boost for Bremen
While Hamburg conceded five goals, fellow Northerners Bremen scored five, securing a solid 5-3 win over Freiburg and now sit in the number five spot on the league table.
"Finally, a game of football that was worth watching again," Bremen's manager Klaus Allofs said after the match, hoping to put last season's disappointing performance behind him.
Cologne had no such luck on Saturday. The troubled club drew 1-1 at home against Kaiserslautern, who took the lead after 17 minutes before Cologne's Mato Jajalo equalized two minutes later.
A controversial offside decision just before half-time saw a Cologne goal disallowed. Cologne then seemed to find their feet, but squandered several chances and simply couldn't find the net again, leaving the Billy Goats languishing at the bottom of the table.
Jajalo (left) and Ilicevic scored for Cologne and Lautern respectively
"Clearly, we were the better side," Cologne Coach Stale Solbakken said. "But one goal is not enough. The match was satisfactory and we had our chances but, in the end, you do have to score."
Stuttgart, who had a promising start to the season, were out of luck too, losing 0-1 to Leverkusen. Newly promoted Augsburg were defeated 2-0 by Hoffenheim.
Mönchengladbach, who were dangerously close to relegation last season, are now on top of the table after a convincing 4-1 win over Wolfsburg on Friday.
Author: Nicole Goebel (dpa, SID, AFP)
Editor: Kyle James