The final vote tally late Saturday confirmed early poll results from Friday's election, as well as political predictions for who would be Rwanda's next president. Incumbent Paul Kagame won an expected victory over two little-known rivals with nearly 99 percent of the vote. The win extends his time in office to 17 years.
Read more: Rwanda's Paul Kagame: Despot or savior?
The National Elections Commission (NEC) posted the provisional national results on its Twitter account.
The other two presidential candidates, opposition politician Frank Habineza of the Democratic Green Party of Rwanda and independent Phillipe Mpayimana, barely managed to scrape together one percent of total votes.
Friday's elections were the first in which the opposition Democratic Green Party had appeared on the ballot. The election board had disqualified a third candidate, Diane Rwigara, ahead of Friday's vote for allegedly failing to meet the necessary requirements to run for office.
Long before Rwandans went to the polls, the outcome in Kagame's favor was seen as a sealed deal, as critics have accused the president of undermining the free election process. Candidates were barred from putting campaign posters in most public places, and the electoral commission had to vet the candidates' campaign messages, warning that their social media accounts could be blocked otherwise.
In the aftermath of the election, the United States State Department issued a statement saying it is "disturbed by irregularities observed during voting."
But 59-year-old Kagame dismissed such critical comments. "This election was criticized so much due to me continuing to be your leader, especially people from outside the country because they oppose the will of Rwandans," Kagame said at a celebration rally on Saturday. "But Rwandans have shown that it was not manipulated by anyone but their own will."
During his July campaign, Kagame said that "the day of the presidential elections will just be a formality."
Read more: Rwanda: Elections 'will not be rigged' say electoral official
Electoral authorities estimated the turnout in Friday's elections to be at 97 percent of 6.9 million eligible voters in the country of roughly 12 million people.
Praise and criticism
Kagame became the country's de facto leader after his Rwandan Patriotic Front (RPF) rebels halted the 1994 genocide that saw an estimated 800,000 Tutsis and moderate Hutus killed at the hands of Hutu extremists. Lawmakers formally appointed Kagame president in 2000 before he was elected by voters for the first time in 2003 in an overwhelming majority.
Kagame has received international praise for helping the nation peacefully transition away from years of genocide and rebuilding the economy. In a televised speech, he vowed to continue the country's economic growth after initial results were released on Friday.
"This is another seven years to take care of issues that affect Rwandans and ensure that we become real Rwandans who are [economically] developing," Kagame said.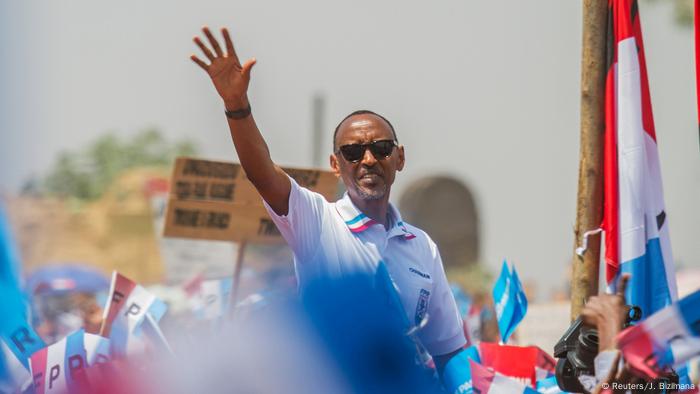 Kagame has received both international praise and criticism during his 17-year-long tenure as president
However, critics and human rights groups accuse Kagame of suppressing the country's political opposition, as well as stifling freedom of speech in the east African country. He has been accused of jailing, exiling and even assassinating his critics. Two decades of often deadly attacks on political opponents, journalists and rights activists under Kagame's leadership created a "climate of fear" in the African nation, Amnesty International said in a report published last month.
In 2015, 98 percent of Rwandans approved a constitutional reform enabling Kagame to compete for a third term in office. Under the measure, Kagame could stay in power until 2034 if he continues to be elected.
cmb, ss/jlw (Reuters, AFP, AP, KNA)