Severouralsk is a sleepy town in Russia's Northern Urals, located several hundred kilometers from the cities of Yekaterinburg and Perm. The only way to reach it is via taxi or minibus. Home to some 26,000 people, it has always been a mining town, which is how most residents earn a living. And although the town has an unemployment rate of 3.28 percent, slightly higher than the Russian average, many still find work in the region's bauxite mines. The town's tranquility, however, belies a grim reality: Severouralsk is the country's HIV capital.
Severouralsk is grappling with a veritable epidemic. Here, every 25th resident is infected with HIV. The town was one of the first in Russia to properly record all known HIV cases, subsequently earning Severouralsk an infamous reputation. Here the virus is not only found among groups at higher risk of contracting HIV, but throughout society.
Read more: 'In Russia, rabble-rousing specifically targets homosexuals'
So how do the people of Severouralsk deal with this ever-present danger in their daily lives? I head to Lenin Square to find out. An elderly woman says she knows many who are infected with the virus and recommends people should "wash their hands more thoroughly." A passerby chimes in, saying people should get vaccinated, which perplexes me. And then, a brawny man with a leather hat tells me that the HIV epidemic "is one of the town's most serious problems!"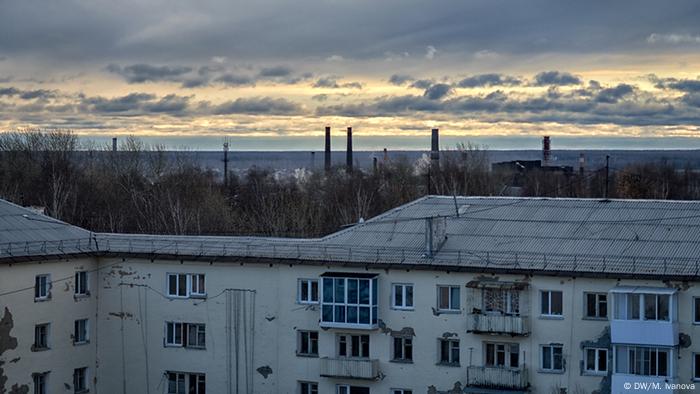 The main industry in Severouralsk is mining
I approach a young man who is smoking a cigarette and has his hood pulled down low. I ask him whether he has has any HIV-positive friends. "Yes, many," he replies. "They are all ill. Half the town is made up of junkies." He continues to says that there are many teenagers in Severouralsk who are addicted to drugs because they have nothing to do. And near the town's civic center, I chat with a young mother who tells me she is scared for the health of her children.
Tackling the epidemic head-on
The nearby Severouralsk hospital is housed in a somewhat rundown, Stalinist-era edifice. It must have been an imposing building once, with its Greek columns and rich ornamentation; today, the hospital exudes a rather morbid charm.
It is here that new HIV infections are recorded, and that HIV patients receive treatment. Svetlana Batraeva, who until recently oversaw Severouralsk's youth services and AIDS prevention program, says the town has understood the extent of the HIV problem and begun taking action. Despite changing her job, Batraeva devotes much of her spare time to helping fight the local epidemic. She guides me though Severouralsk to help me learn as much as I can.
Read more: Russian anti-abortion group fights and prays for ban
Batraeva says that mobile labs now offer free blood tests right behind the town's grand Lenin statue. According to her, companies have started educating their staff about the town's grim HIV stats. She believes the town's efforts towards combating HIV infections are exemplary, and that the hard work is paying off: The number of new infections is dropping.
"One of our main methods is to educate the general population," says Batraeva. "And to tell them how to use protection." She says authorities now emphasize the benefits of healthy life choices, family life and long-term romantic relationships to prevent HIV infections.
Moscow: 'Education is essential'
Back in Moscow, Russian Deputy Health Minister Sergei Krayevoi admits that "the Urals and Siberia are in fact more affected by HIV infections than the rest of Russia." In his view, the problem has its roots in the 1990s, when the economy was in tatters, unemployment rampant and drug dealing common. "Then, the most common way to get infected was though the syringe of a young drug addict."
But today, Krayevoi says, most individuals who contract the virus are around 40 and get infected through sexual intercourse.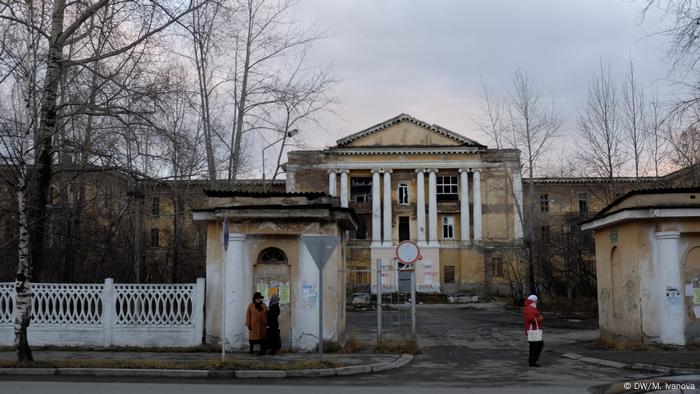 HIV patients in Severouralsk come to this hospital for treatment
I want to know whether he believes advocating family values and long-term romantic relationships can really help prevent HIV infections. Smiling, Krayevoi replies that "all countries and cultures value healthy families." But he concedes that this alone will not suffice, adding that "education about how HIV is transmitted is essential." He thinks therapies and being tolerant towards HIV-positive people is important as well, stressing that these people pose no threat to their loved ones. "Of course not, as long as they use condoms during sex," I reply.
I ask him how come there are no posters in Russia promoting this simple and effective contraceptive, like the "Don't give AIDS a chance" ads on practically every bus stop in Berlin. Krayevoi's answer: "We have nothing against being open about mechanical protection ..." After a brief pause, he clarifies: "... with condoms." He explains that Russian television runs ads by the Durex condom company and mentions HIV. But, he says, "a genuinely free society should also be about respecting the cultural and religious traditions of a nation."
Every evening, DW's editors send out a selection of the day's hard news and quality feature journalism. You can sign up to receive it directly here.