Putin and Ukrainian Prime Minister Yulia Tymoshenko are set to sign documents Monday, Jan. 19, to end the gas crisis, which has blocked shipments of Russian gas to Ukraine and much of Western Europe since the beginning of the year.
In a statement issued Sunday, the European Commission welcomed the agreement, but said it remained to be seen whether gas would actually arrive in Europe in the coming days.
Experts have said it could take up to three days for gas supplies to reach Europe and for pressure to return to normal in pipelines after the taps are opened. For some countries which have nearly run out of reserve supplies, this could continue to create short-term problems.
Under the agreement, Ukraine would be offered a 20-percent discount on the market price for Russian gas deliveries this year, if it agrees to keep transits fees for pumping gas to Europe via its pipelines at the 2008 level. For Ukraine, this still means a substantial increase in the first quarter.
Putin said both countries would switch to European market prices in their gas trade starting in 2010.
EU was getting anxious
Europe receives a quarter of its gas from Russia, 80 percent of which flows through Ukrainian pipelines.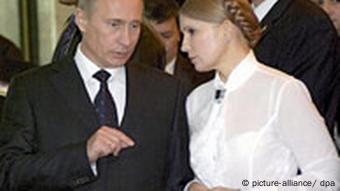 Putin and Timoshenko are ready to ink the deal
The European Union had called the weekend talks the "last and best chance" for both sides to salvage their reputation as reliable suppliers. The bloc also threatened to review its relations with both Russia and Ukraine if the dispute were not resolved this weekend.
Kyiv and Moscow have both sought to bring the EU in as an arbitrator in their dispute, but the rushed energy summits was snubbed by Western Europe, who seemed in angry retreat after a failed bid to broker renewed gas transits one week ago.
It was still unclear Sunday whether Tymoshenko had the backing of her political rival Ukrainian President Viktor Yushchenko for the deal she negotiated in Moscow.
Russia embargoed gas supplies to Ukraine on Jan. 1 when Kyiv balked at paying more for gas in 2009. Russia then halted all supplies of gas to Ukraine on Jan. 7 amid accusations that Kyiv was stealing gas destined for European customers further downstream.
The two sides made no mention of the more than $600 million that Russia claims Ukraine still owes for 2008 supplies.