Russian police on Sunday arrested a dozen protesters, including several opposition candidates who were barred from running in Moscow's parliamentary election.
Some 2,000 people took to the streets to protest the electoral commission's decision to disqualify several independent candidates, saying it represented an attempt to remove independent candidates from the race.
Protesters shouted anti-government slogans, including some targeting Russian President Vladimir Putin. Police had initially decided not to break up the protests but later intervened. One opposition candidate was arrested while en route to the protest.
Read more: Russia fake news law sets out fines for insulting the government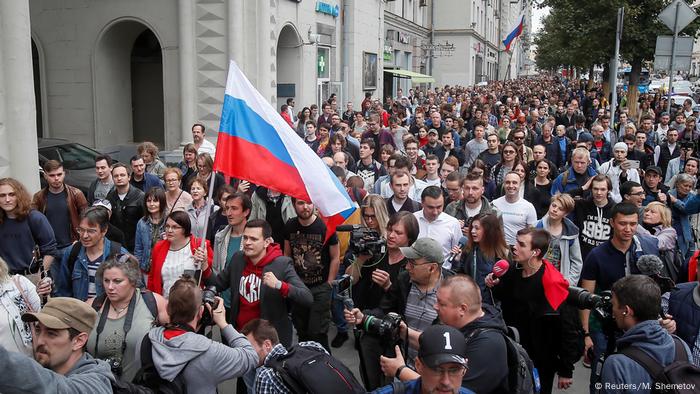 Russian protesters rallied behind opposition candidate Ilya Yashin
'Stealing our future'
Although the commission has yet to unveil the candidate list, it said a vast majority of sponsored candidates had failed to gather the required number of signatures to participate in elections for local and regional legislatures.
"Across the whole of Moscow now, they are removing independent candidates," said opposition politician Ilya Yashin, a local councilor in Moscow who supports opposition leader Alexei Navalny.
"They are stealing these elections, they are stealing our future," said Lyubov Sobol, another candidate who was arrested on Sunday. "I will stand and fight until the end."
The Economist Intelligence Unit classified Russia as an "authoritarian" country, ranking it 144 out of 168 countries on its 2018 Democracy Index, below both Cuba and Afghanistan.
Read more: Alexei Navalny: 'There is no pro-Putin majority' in Russia
Every evening, DW's editors send out a selection of the day's hard news and quality feature journalism. You can sign up to receive it directly here.
ls/jm (AFP, Reuters)