An ambush outside the city of Sibut in the Central African Republic (CAR) left three Russian nationals dead, government authorities said on Tuesday.
The victims had press cards in their possession at the time of the murder, but the Russian government did not confirm that they were actual journalists.
The journalists were reportedly working on a documentary about the "Wagner Group," a Russian paramilitary organization currently operating in CAR.
YesThe project was said to have had the backing of an investigative media outlet run by exiled Russian tycoon Mikhail Khodorkovsky. Khodorkovsky confirmed Wednesday via Facebook that the journalists were collaborating on a story called "Russian Mercenaries."
Russian officials deny the existence of the "Wagner Group." According to some estimates, the organization has between 1,350 and 2,500 mercenaries.
Wagner is a pseudonym for ex-intelligence officer Dmitri Utkin, who founded the group. The first evidence of the group's activities was collected by Ukraine's intelligence agency in 2014 in Donbass. Media reports claim that members of the group were active in the Syrian war during 2016 and 2017.
Reuters news agency cited CAR's local media as saying that the "Wagner Group" became active in the African country after the Kremlin delivered weapons to CAR's security forces and when Russian instructors started training local soldiers. In April, French newspaper Le Monde reported about alleged Russian mercenaries in CAR.
Russian news agency TASS cited CAR authorities as saying that Muslim rebels could be behind the killings of Russian reporters.
Read more: Central African Republic: UN defends role in Bangui clashes
Killed on the spot
According to Marcelin Yoyo, a Sibut deputy official, the three Russians left the town of Sibut on Monday evening around 7 p.m. and were attacked between two villages about 23 kilometers (14 miles) away.
"Security forces in charge told them not to go because it was already dark," Yoyo recounted, adding that "they were kidnapped by about 10 men, all turbaned and speaking only Arabic."
Yoyo said the journalists were killed on the spot and that their driver was able to flee the scene and informed authorities the next morning.
The Russian Foreign Ministry expressed condolences to the families of the dead and said it was working on bringing the bodies back to Russia.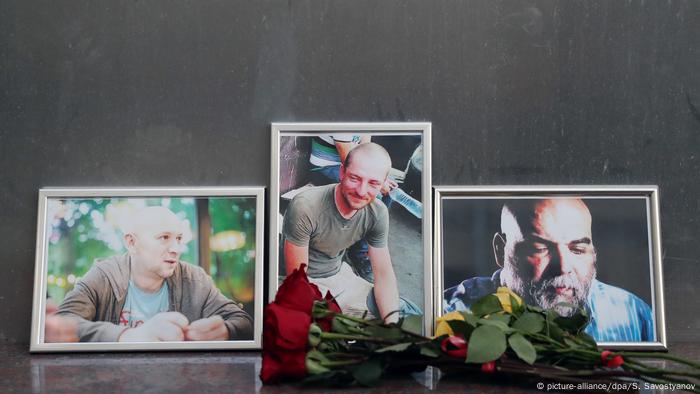 The three Russian journalists were killed on the spot as they encountered the ambush.
Working covertly?
Ange Maxime Kazagui, a CAR government spokesman, said that authorities had not recently issued any journalist accreditation to a delegation from Russia.
Anastasia Gorzhkova, deputy editor of the Center for Investigation Management (TsUR) Russian online news outlet, said the three journalists wanted to visit a base in Berengo, where, according to media reports, Wagner mercenaries might be operating. They were denied access because they had no accreditation from CAR's defense ministry.
Joseph Bindoumi, the chairman of the Central African Human Rights League, told DW that neither Russian forces nor CAR authorities accredited the reporters, adding that they were given a green signal by MINUSCA, the UN peacekeeping mission.
"Only MINUSCA can tell how they were sent without protection," said Bindoumi, who also served as CAR's secretary of defense.
According to the Russia's foreign ministry, the men did not go to CAR on a journalist visa but as tourists.
Foreign ministry's spokeswoman Maria Sakharova told TASS news agency that the murdered reporters possessed expired journalistic certificates, and that apparently they wanted to investigate covertly.
Russia's ties to CAR
Russia has taken on a more visible role in CAR since December last year, when Russia received United Nations authorization to provide the beleaguered African nation with weapons and training.
Read more: Russia builds military ties with Africa
The UN exempted Russia's weapons deliveries to CAR from an embargo it had imposed in 2013, in an effort to support the weakened central government and its military.
The UK, France and the US voiced concern over the move, and demanded that weapons be restricted to light arms, and that Russia provide traceability to prevent them from being sold on the black market.
A UN panel of experts had warned on Tuesday that Russia's weapons supply had led to an arms race in the rampantly unstable CAR, with rebels turning to traffickers in Sudan for fresh gun shipments.
In addition to the arms deal, Russia is also believed to have signed a range of agreements with President Faustin-Archange Touadera, including a deal for his own security.
CAR plunged into violence after longtime leader Francois Bozize, a Christian, was overthrown in 2013 by a mainly Muslim rebel alliance. His successor Touadera, whose government is supported by a UN force of 13,000 troops, controls little of the country beyond the capital Bangui.
The rest of CAR is held by 15 militias, many of which claim to represent Christian or Muslim communities. They frequently clash over natural resources and revenue.
shs, jcg/aw (AFP, AP)
Each evening at 1830 UTC, DW's editors send out a selection of the day's hard news and quality feature journalism. You can sign up to receive it directly here.